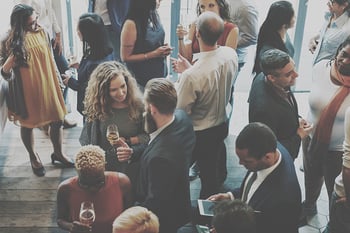 Atlanta is an amazing city for marketing professionals. Here at Marsden Marketing, we value continuing to learn and grow as professionals, which is why you'll find us participating in HUGATL events through HubSpot and networking events with our peers. But we often find ourselves asking, "What other marketing events and networking opportunities does Atlanta offer?"
(P.S. If you're looking for the most recent round-up of Atlanta events, we post these blogs monthly. Click here to see what's happening this month.)
If you've wondered the same, we did the hard work for you! Here are the June 2017 events we found for $50 or less for digital, inbound and content marketing professionals. Who knows – you might even see us there!
June 6, Tuesday
General Assembly: The Design Economy Revolution
Cost: Free
Start Time: 6:30-8:30 p.m.
Description: As part of the Atlanta Design Festival, this panel discussion focuses on the design economy, the revolution that values design, creativity, and innovation as essential ingredients for growth. It's one of the hottest topics of the last decade and has the potential to shape the future of cities, countries, and businesses worldwide. MA!, a global brand based in Atlanta and focused on promoting international design and culture, will make the case for Atlanta adopting a design economy as a gateway to sustainable economic prosperity.
June 7, Wednesday
General Assembly: Virtual Reality Immersion: Enhancing Brand Experience Through Technology
Cost: Free
Start Time: 5:30-7:30 p.m.
Description: In partnership with the General Assembly, this TAG Digital Media and Entertainment event features a panel with representation from brands and content developers who focus on virtual reality in the enterprise world. Come to the event to learn about the latest in VR, as well as how to apply this emerging technology in your company.
June 8, Thursday
American Marketing Association: Cause Marketing – The Genesis of 48in48
Cost: $25-35
Start Time: 7:30-9 a.m.
Description: If you could use your professional marketing skills to help 48 nonprofits in 48 hours, would you? These folks did and it has been a huge success. This AMA meeting features Jeff Hilimire, co-founder of 48in48 and CEO of Dragon Army, discussing how he helped build 48in48, where the organization is headed, and how others can dream big and pull it off. (FYI, Marsden Marketing is delighted to be participating in 48in48 this year.)
June 8, Thursday
American Interactive Marketing Association: The Big Question for Data-Driven Advertisers
Cost: $50
Time: 8-10 a.m.
Description: Now that advertisers have figured out programmatic buying, DMP strategies and cross-platform, dynamic creative, it's time to ask the question: "Is all this actually working?" While data has been used extensively to find and engage customers across devices, the industry is now focusing on data-driven insights to measure effectiveness and optimize performance. Steve Latham, global head of analytics for Flashtalking, will present best practices and case studies for using verification, cross-device attribution, and creative analytics to identify waste and make the most of digital media budgets.
June 14, Wednesday
HUG Atlanta Meetup: Using Analysis to Overcome Assumptions About Your Audience
Cost: Free
Time: 11:00 a.m. to 1 p.m.
Description: In marketing and sales, we often assume that we know everything possible about our audience and that we're using information effectively. If that were true, though, every marketer and salesperson would have a nearly perfect success rate. During this monthly HUG meeting, you'll learn a few tricks to master the craft of creating and implementing an audience analysis to improve your success rate, no matter the size of your organization.
June 20, Tuesday
American Marketing Association: Atlanta Summer Social
Cost: $20-$30
Time: 6-8 p.m.
Description: Join AMA-Atlanta for its annual summer celebration at Second Self Brewing Company. Mix and mingle with Atlanta's marketing community and enjoy great local beer at one of Atlanta's fast-growing craft breweries.
June 21, Wednesday
American Interactive Marketing Association: AI and the Transformation of Marketing
Cost: $50
Time: 6:30-8:30 p.m.
Description: AI is more than just programmatic advancements and custom song lists. From Disney to Uber to Bank of America, most large companies are investing in or, at the very least, focused on AI. And one of the first places they're aiming to innovate is how they use AI to change how they speak to customers and what they speak about. Join industry thought leaders as they discuss how AI will transform marketing in ways we can't currently comprehend.