The rain hasn't stopped yet, but that doesn't mean you need to be a recluse. Atlanta's got a lot to see and do, including some great networking and educational events for marketing professionals like us. Here are the July 2017 events we found for $50 or less for digital, inbound, and content marketing professionals. We hope to see you there!
(P.S. If you're looking for the most recent round-up of Atlanta events, we post these blogs monthly. Click here to see what's happening this month.)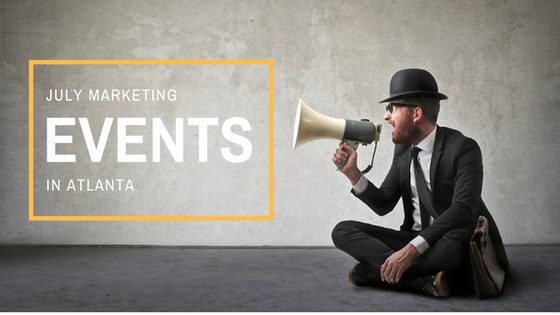 July 11, Tuesday
General Assembly: Digital Marketing 101
Cost: $30
Start Time: 7-9 p.m.

Description: Step into the world of digital marketing with General Assembly. This introductory workshop will explore the components of brand building and see how modern marketers drive successful campaigns using content, email, social media, paid advertising channels, and more. Using real-world case studies, you'll …
Break down the components of a digital marketing campaign.
Survey today's digital marketing landscape and its career opportunities.
Learn to approach a marketing campaign by identifying your objectives first.
Get hands-on practice identifying key performance indicators (KPIs).

July 13, Thursday
Public Relations Society of America: Connecting with Consumers – Giving Back to Propel Atlanta Forward
Cost: $38 (early bird pricing is $28)
Start Time: 11:30 a.m. - 1 p.m.

Description: Reaching 21st century consumers isn't just about the quality of the product or service we sell – it's equally about the character of the product, service, or organization we sell. At a special July lunch presented by The Coca-Cola Company, we'll see how this idea comes to life through the lens of the Southeast's largest organization fighting food insecurity. The Atlanta Community Food Bank's CEO Kyle Waide will share how integrating the needs of the community into integrated communications campaigns isn't just the right thing to do – it's good for your business.
July 19, Wednesday
HUG Atlanta Meetup: Understanding the Digital Landscape to Produce a Better Online ROI
Cost: Free
Time: 11:00 a.m. - 1 p.m.

Description: Brooks Donner is the special guest speaker at this month's July HUG meeting in Atlanta. The HUG meetings are a great place for anyone interested in learning tips, tricks, and best practices about inbound marketing and HubSpot. You do not need to be a HubSpot customer to attend a HUG meetup. It's a chance to meet others who share your passion for inbound marketing!
July 20, Thursday
General Assembly: Strategic PR to Push You Forward
Cost: Free
Start Time: 6:30-8:30 p.m.

Description: The communications landscape is always changing, meaning the tactics you use to create conversations and engage with your stakeholders to influence goodwill for your company today will be different in the years to come. An effective PR strategy, however, will always guide you to the best tactics to achieve your business objectives.
Discover the crucial steps of PR strategic planning.
Learn how a solid PR strategic framework provides the foundation for you to behave like a market leader.
Learn why positioning from a "helping" versus "selling" mentality can change the game for your PR program.
Grasp why PR is so much more than media relations.


July 27, Thursday
American Interactive Marketing Association: Networking SummerFest 2017
Cost: $30
Time: 6:30-10:30 p.m.

Description: Looking for a unique, fun way to network with your peers? Join AIMA for THE summer party for Atlanta's digital marketing community! Enjoy food, drinks, yard games, entertainment, and networking. Casual dress is encouraged.
Looking for some inspiration instead of an event? We've got you covered.