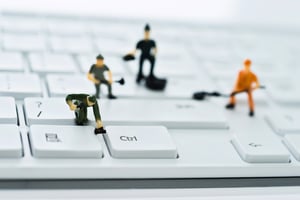 Spring has sprung! And with it, our favorite seasonal pastime - spring cleaning!
It's something most of us do at least once a year. The changing weather and longer days motivate us to begin new projects and hit refresh. You tidy up your garden, donate those jeans that you've been hoarding since freshman year, and finally dig through the boxes in the basement that you meant to clean out last year, but somehow never got around to tackling.
But, beyond the carpet shampoo and fan dusting, the concept of spring cleaning is also applicable to digital marketing. This blog is part one of a series that will help you hit the refresh button on your marketing efforts, and what better place to start than your B2B website.
Let's get started!
Removing the Dust From Your Website
A website has three primary purposes for a B2B company:
Provide useful information, organized in an easy-to-use structure, to visitors

Convert useful information through calls-to-action

Put the company's best foot forward to make a positive first impression
Each contributes to attracting potential clients by improving search engine results, providing meaningful information on how the business solves business problems, and driving visitors through the marketing and sales funnel. Regular analysis and maintenance of structure, content, and appearance are essential to ensuring that the website is an integral, useful part of the company's total demand generation strategy.
Websites should be fully audited at least annually, although 2-3 times per year is ideal if resources allow. During a website audit, content, web traffic, and conversion data should be analyzed to determine what information needs to be updated or changed.
Evaluate Content
Up-to-date content means a B2B website will be considered relevant by search engines and visitors. Data collected by Stanford University indicates that people assign more credibility to sites that show they have been recently updated or reviewed. Regular updates and corrections to information on a company's website create a good impression on visitors and prompt search engines to re-crawl pages for indexing.
Here is a checklist that should take approximately 1-2 hours to complete and ensures your content is as up-to-date as possible.
Update the year on all the pages. For example, update the copyright year at the bottom of the page. Use the shortcut [control + F] to search for the previous year on website pages

Review services/products pages for accuracy. Make updates to pricing, remove content that is no longer pertinent, and make a list of content that needs to be created.

Review that company "About" information. Ensure that the company address, phone number, and other contact information is correct. If a team/employee page is present, determine if anyone should be added or removed

Examine resources on the website such as case studies, white papers, and use cases. Create a list of resources present, and use the traffic analysis to determine if certain pieces of content should be updated or replaced.

Perform an SEO check.

Using a crawling tool like Screaming Frog, ensure that all pages have H1s and H2s, all images have alt-text, and no links result in 404 errors. Use the traffic analysis we discuss later in this whitepaper to prioritize changes that need to be made
Analyze Traffic
A full website content audit is an extensive process. But, web traffic analysis allows for prioritization of updates to content that cannot be edited in a few minutes.
After determining what edits can be made, use a tool like Google Analytics to determine which pages of the company website receive the most traffic. Use this information to prioritize the changes determined from your content analysis. Once prioritized, you can take an Agile approach to updating the website and content.
If using Google Analytics, you can easily pull and export information on web traffic to pages.
Open Google Analytics and navigate to the appropriate property view

Under Behavior, select Site Content, then All Pages

Pages are typically sorted automatically by page views
This view shows which pages are most viewed on the website. You can prioritize changes depending on which pages are viewed most by visitors and what changes will be most noticeable.
Prioritization should also take into consideration landing pages and exit pages. Landing pages are pages that users first see when visiting a website. For instance, the report will show which page visitors most often see first.
To access top landing pages in Google Analytics:
Go to Behavior

Click Site Content
Click Landing Pages

Pages are automatically sorted by page sessions, but information is provided on the pages' bounce rates and conversion rates. This report is helpful for identifying which pages are effective at converting visitors into contacts. You can prioritize changes based on the most valuable landing pages.
Exit pages are the pages that users last see before leaving a B2B website. Prioritizing work based on exit pages allows changes to be made to pages that are not engaging. Content on these pages can be edited to be more engaging and keep users on the website longer. Consider adding additional offers to infographics or blog posts on these pages as well.
To access the exit pages report:
Go to Behavior

Click Site Content

Click Exit Pages
Also, consider evaluating visitor behavior on high traffic pages. Tools like Hot Jar provide heat maps of areas seen most by visitors. The heat maps can be used to determine if visitors focus on one part of a page more than others. For example, if users rarely scroll down the home page, be sure to move important CTAs to the top.
Review Conversion Data
A website is only as valuable as the demand it helps generate. The critical component of monetizing a B2B website is using it to collect information on new contacts. Relevant and updated content should be compelling enough to get users to supply their emails via calls-to-action (CTAs).
The first step to cleaning up CTAs is to map all of them currently on the site. Use a spreadsheet to record the page URL, page title, and CTA copy, link, views, and clicks. Once each CTA has been mapped, cross-reference the page URLs with the data collected in the traffic analysis. Page views and conversion rates from the page analytics will help determine which pages are highest priority for updated calls-to-action.
Consider a website home page that receives 3,000 views per month. The page features a prominent CTA towards the top of the page, and the CTA has only received three clicks. With a click-through rate of 0.1%, this CTA is not doing a good job at converting visitors to contacts. The high traffic of the home page and the poor performance of the CTA place this as a high priority fix.
After prioritizing CTAs that should be changed, brainstorm better incentives that can be added in their place. Are there CTAs that perform really well that could fit? Is there a case study that better supports the information on the page? Should you create new content or CTAs?
With regular maintenance of these three core categories, any B2B website will be primed to drive leads and generate lasting positive impressions.
Found this information useful?
Subscribe to our blog and stay tuned to the next part of this Spring Cleaning Series.