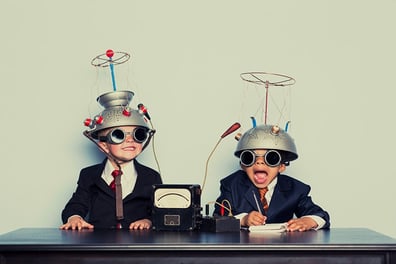 When was the last time you dove head first into an experiment? If you're like me, you haven't seen much science action since a third-grade volcano project. However, experiments are essential to the development of knowledge. Where would our world be if Pavlov hadn't taught us about the ability to condition dogs to salivate (although my Great Pyrenees drools without human intervention). To get myself back into the experiment game, I decided to test the foundation of B2B digital marketing: email.
Email marketing is a core component, and challenge, of a marketing plan. Companies today are working to break through clutter and deliver messages that resonate with contacts. Current best practices for email marketing discuss creating engaging subject lines, writing clear copy, and making it easier for contacts to click through to websites. I wanted to put that knowledge to the test.
In my (somewhat) scientific opinion, there's nothing like a live test subject to observe and analyze. For two weeks, I examined the emails that hit my inbox and tracked subject lines, copy, and calls-to-action to which I reacted positively to see if common best practices are still effective. These are my findings.
The Test Subjects
The test subjects in my first phase of analysis were, funny enough, subjects – or subject lines, to be accurate. Our friends at HubSpot have four recommendations for writing email subject lines:
Use actionable language
Personalize when possible
Prioritize clarity
Align subject and body copy
I quickly found that these best practices had an influence on my behavior. In looking at my inbox, there were two notable subject lines that flopped:
"Don't Blow It"
"You Have to See This!"
I did not give a second thought to deleting these messages. The two subjects provided zero context. There was no language demonstrating what action should be taken. I had no idea what the email was about or what the message would contain.
Subject lines that did earn an open provided action-oriented, clear copy — numbers one and three in the list above. Here are two examples:
"PPC in 2017: Death of the Ad"
"Get Ready for Super Bowl LI with a Pizza Party Box"
Both subjects provided context that made the messages relevant and timely (but honestly, pizza is always relevant). I immediately knew why these companies chose to email me and what information they were providing. The subjects contained specific language that clarified what was inside.
I was less likely to open emails with subject lines that used the other two best practices. We'll discuss number four later. I did not find that personalized subjects made a difference in whether I chose to open an email. However, I often use personalization to weed out bulk messages that aren't from real people. For instance, I know subjects containing "William" are either from my mother or a robot who doesn't know most people call me Will. Still, there are heaps of data showing personalization improves open rates. Test personalization out for yourself to see how your audience reacts.
Examining the Body
While I received hundreds of emails, my open rate was around 2 percent — dismal by any standards. Since I opened so little, I hoped the content inside would be great. According to HubSpot best practices, email bodies should:
Establish relevancy
Talk about benefits
Be brief
Both examples from our subject analysis stood up well to further examinations. All evidenced the email body best practices and encouraged me to click-through on the call-to-action. Each included relevant information and outlined benefits using congruent word choice from the subject (which was the fourth of the best practices for email subject lines).
The PPC email displayed highlights and additional information on the blog. The pizza promotion showed me the savings offered and highlighted how to schedule ahead to avoid waiting on game day. Both were brief and provided valuable information without making me scroll to see it.
The Call-to-Action Potential

If you've been to a physiology class recently (as I'm sure you have), you remember that action potential is the point at which a neuron fires off to a neighboring neuron. It's an all-or-nothing process; there is a minimum amount of stimulation that must occur for the action potential to be reached. If there's not enough energy, the signal doesn't pass at all.
Getting clicks is similar. You must provide a minimum amount of stimulation to readers or you get no clicks. Calls-to-action are your last shot to convince someone to click through and should:
Have action-oriented language
Be easy to identify
Be succinct
My experiment found that CTAs incorporating all three best practices were the most effective. The PPC email campaign provided an obvious, well-worded link, "Read the full post." I could identify the CTA within seconds of skimming the message and knew exactly what would happen when I clicked the link.
The pizza promotion, on the other hand, let me down. I had to scroll about halfway through the message before I was prompted to claim the offer. The CTA button read "Order Now," which confused me. The email was sent about a week before the Super Bowl. "Order Now" made it sound like I would immediately get a pizza. I hesitated and didn't click. Using more specific language, such as "Pre-order Now," could have eliminated confusion.
Summary of Findings
The qualitative data I collected on what I opened and clicked on showed patterns that confirm email best practices. Clarity and efficiency were repeated elements of successful subjects, email bodies, and calls-to-action. Easily digestible and specific copy won out over less clear click-bait.
It's important, though, to remember that no data set is infallible. You need to collect your own qualitative data and validate it with quantitative results. After all, no one knows your target markets and segments. Digital marketers agree that testing is the ultimate tool to achieving success. Need help getting started?
Learn to deliver better email campaigns.