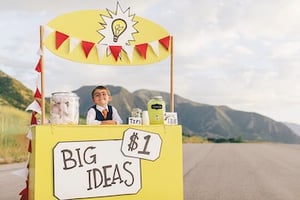 Those pesky random acts of marketing have a way of popping up and running amok at the most inconvenient of times. In the end, all we're left with is a depleted budget and that nagging question: "why did I do that?"
So which marketing tactics do you deploy and when? How do you take the random acts out of your marketing efforts? We all know the need for a marketing plan that defines our goals and keeps us on track, but a calendar of activities just isn't going to cut it anymore.
As marketing takes the reins on revenue, the traditional marketing plan that listed goals, activities, and the ROI of tactics is no longer enough. Our roles now have us stepping outside of our marketing bubble to take a holistic look at our organization's objectives.
According to a study by the CMO Council and Deloitte LLP, 68 percent of CMOs report that their senior management and board view their role as being the primary driver of organizational growth. In fact, that same study points to companies now turning to CMOs as the executive who leads growth strategies (27 percent) — even more so than the CEO (21percent).
Marketing Is Leading Growth
Taking on the responsibility of driving growth means marketing is redefining its overall role in the organization. For far too long marketing has felt like an island unto itself. We've talked about marketing and sales alignment like it is a scientific experiment of water and oil. The creative kids clearly cannot be part of the pecking order with those in suits, right? Yet, in today's role, we must transition to develop a marketing strategy that not only leads to success for our team but the organization as a whole.
When marketing speaks in website clicks, conversions, and qualified leads, it demonstrates a disconnect from the company's overall goals. These are not growth drivers for a c-level perspective. Taking on the duties of chief growth officer means being able to connect our efforts not just to the ROI of tactics, but to speak about them within the full scope of profitability and revenue for the organization.
As we craft our marketing plan, telling its story through the lens of revenue will continue to be based on specific and actionable efforts; however, how we measure and report these marketing tactics should now be more connected to our organization's overall growth metrics. Being able to track efforts to close rate, deal size, and funnel velocity reshapes the conversion to connect marketing's actions to the organization's needs.
In essence for marketing to lead growth, we're no longer just aligning with sales, but with our product and development team, our customer success team, and, maybe most importantly in today's evolving landscape, our executive team.
Revenue Planning Process For Marketing
As marketers connect their efforts not just to the ROI of a specific tactic, but also to the overall outcome for the organization, today's marketing plan must also evolve to address this need. A successful marketing plan should continue to focus on the biggest challenges and opportunities but should frame the results to be both data-driven and comprehensive.
To create a solid foundation with your marketing plan, start by answering a series of questions:
What is your positioning in the market?
How do you measure against your real competitors and how do you differentiate from them?
What are the challenges and opportunities in your market space?
What attributes make up your well-defined target accounts and ideal prospects?
What are your goals for this defined time period?
What are your available budget and resources to execute against the strategy?
What marketing approaches and channels should you utilize?
What are the program details and marketing tactics within each channel?
What is the prioritization of those tactics?
What is the timeline for executing against each activity?
What is the expected outcome of each activity?
What is the process for measuring, reporting, analyzing, and adjusting?
While this may not seem entirely different than the exercises you went through to draft ye olde marketing plans of yesteryears, we now must address a few more items:
What are the goals for your organization during the period for which you are planning?
Do current marketing priorities align with those corporate goals?
What department-specific initiatives should you take into account in achieving your organization's objectives?
What are the standardized metrics for reporting against those organizational goals?
How do those metrics tell the story of your organization's overall performance?
How do you reverse engineer those metrics to demonstrate the more granular lift by channel and activity?
One of the larger difficulties in drafting an approach that addresses growth is that it shouldn't be made upon assumptions. Start by utilizing benchmarks, marketing reports, industry metrics, and historical data that can speak directly to revenue and profitability while providing attribution. This will serve as a guide once you begin to act against the plan.
Taking the time to properly architect the plan cannot be underestimated. Mapping the course from action taken to end goal is still where every marketing plan thrives or dies.
By developing a marketing plan with revenue at the forefront of the strategy and metrics that speak to the big picture, CMOs are able to establish a clearer and stronger position for leading the growth initiatives in their organizations.
Ready to start moving the needle on revenue? Use our guide to kickstart your revenue growth goals.