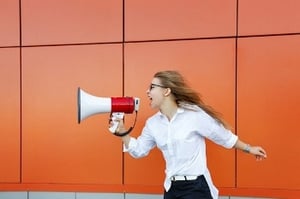 Picture this scenario:
You've spent all week working on a blog. You did your research, put together what you believe is a masterpiece, and now you're ready to unleash it to the world.
A week passes by after you publish your post, and all you get back is silence.
You refresh your CRM more times than you can count and you see zero traction. If you've experienced this situation, you more than likely forgot a crucial component of content marketing: amplifying your content.
What is Content Amplification?
Content amplification helps you reach your target audience by making sure it gets in front of the right people, acting as a beacon that allows your content to reach a wider audience.
It used to be easy to publish your content and see the return of your efforts. But with close to 3 million blogs published every day, making sure that you get noticed requires a bit of elbow grease.
While it's easy to forget about your content once you hit publish, you're missing out on a host of opportunities by doing so.
Amplifying your content does more than providing you with much-needed brand exposure. It allows you to build thought-leadership, increase campaign conversions, build backlinks, and generate rapport with industry leaders and influencers.
While there are a host of tactics you can partake in to get eyes scrolling on your posts, from paid search to earned media, these tips are intended to get your content seen while ballin' on a budget.
Get Social
Share Your Post on Your Company Pages
Posting your content on your company's social media pages may seem a bit obvious, but it's an essential first step to getting your content on more than just your website.
With 4.1 billion users on the internet, failing to use your social presence to expand your audience equates into a missed opportunity, especially when 94 percent of B2B consumers research online before making a purchase.
Part of implementing a digital strategy is to put yourself in the places where your audience can find you. By placing your thought leadership on social media, you can easily gain credibility and show off your expertise.
Seek Buy-in From Leadership
Having leadership share your company's posts can have a huge impact on your content amplification strategy.
According to Stackla, when a person (rather than a brand) shares something, they're three times more likely to consider the content authentic.
If your CEO isn't overly enthusiastic about being on social media, talk to them about the benefits of participating. Tie your initiatives back to ROI and how it impacts your organization's growth plan and you're bound to get them on board.
Suggest setting up a posting schedule via social media posting tools so that marketing can post on their behalf. That way, your leadership team will share your content and have the potential to be seen as an influencer in your industry for sharing relevant, curated posts.
Tap into Your Employee Base
Encourage your employees to share content by creating an advocacy program. By tapping into their social networks, you're able to cast a wider net.
Social media tools make it easy for your team to share your content more organically, but there's always the manual job of posting on your team-wide Slack channel and encouraging your coworkers to share or retweet a post each time one is published.
It may be a good idea to make it a competition with prizes or a raffle for those who share the most!
Engage with Influencers
You can find influencers for every industry. These are the people with a large following on various media channels like blogs, social media, podcasts, or a hybrid of each.
Including influencers in your content amplification strategy is a great idea for a number of reasons. The best is that they have already built trust with their audience — the hardest part of amplification — and can use that trust to promote your product or services.
However, leveraging influencers often means providing them exposure as well. There are plenty of influencers outside of your organization that are already writing relevant content that your subscribers would be interested in seeing on your site. Consider who would be willing to produce content on your website and what it would take to get them to agree to do so.
Customers can be influencers, too. Do you have any customers willing to talk about their experiences with your product or services? What about past customers— if you offered them one of your newer products for free or at a discount, would they be willing to be interviewed about their experience for a vlog opportunity? Once they agree to collaborate, having them share the co-created content to their social channels will increase its reach even further.
Create an Easy Button
Getting people to share information doesn't have to be hard. There are multiple ways to create an easy button for your audience to share your content, but here are some of my personal favorites:
Shareable Snippets
Shareable snippets are a quick and easy way for your readers to share your content without having to use a lot of your own manpower to get the message out there. It's also great for encouraging readers to share your content on their social feeds and makes for a great and effective call to action.
Be sure to have a featured image and meta description for social channels to pull when sharing. Content with images or video outperforms content without those elements, and providing context will help your content look like a more credible link for others to click.
Share Buttons
Another option is to create a small share button that's on all of your content pages. These buttons make it easier for people to share your content directly into their feeds by having a pre-written message for them. It's easy to get creative with them. Check out these different click-to-tweet options that can amplify the most shareable part of your content, like statistics or quotes.
Website Plugins
For those who use Wordpress as their CMS, there are a host of plugins for content amplification that you can use. For example, Quoty uses the highlighting text feature as another chance to encourage an engaged reader to share content, which could prove to be much more effective than static buttons at the bottom of the page.
When in Doubt, Go Niche
Reposting your content on smaller, more focused forums can also help you to get the word out to the right people, even if they don't follow your social media or subscribe to your blog just yet. Here are some platforms you may want to consider when planning your content amplification strategy:
Inbound.org

Reddit

Medium

LinkedIn Articles

LinkedIn and Facebook Groups

Twitter Chats
There is no "silver bullet" formula to getting more traffic for your content, but having a content amplification strategy ensures that you get the most out of every piece you put out there.
Having doubts on whether these tips will work? Experiment with one of the tactics proposed in your next piece and let us know what happens. We're always looking for success stories so share yours with us.