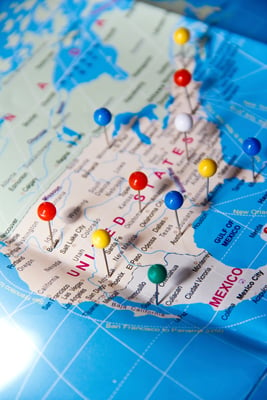 Last week we talked about the buyer's journey. How does this apply to keyword research? Or does it? Why yes, it most definitely does!
With SEO, sometimes we get so focused on keywords to rank for quickly and easily, that we forget the point. Forest for the trees, right? Getting bragging rights for the number one spot is very tempting, but it is not the only focus - especially if you rank for the wrong keywords. Now let's take a look at how to choose the right keywords for each stage of your buyer's journey.
How do you choose which keywords to focus on?
Theory tells us to choose the keywords that best fit your business or product you are selling. Then look for those keywords with the least competition and most traffic. Those are the easy pickings and a good start to sort through the weeds of all the keywords you have found in your search.
This also takes us back to the buyer's journey. The three phases of the buyer's journey are: awareness, consideration, and decision.
Seems pretty simple, but to actually apply this to our keywords list is a little tougher than you think. So let's take a look at this example:
Product: Airplane seats
Buyer persona: Airline owners
Need: Airplanes that need seats

For this example I used Google's Keyword Tool for the following keywords: "airline seat manufacturers" and "airline interiors." This is just a general search, but if you want to learn more about doing an in depth research stay tuned or check out this article from Neil Patel, "5 Modern Keyword Research Methods to Uncover Hidden Gems."
The Awareness Stage
This area of keyword research is often the most neglected, but it isn't any less important because you get the chance to build awareness for your brand.
Focus your keywords on answering the questions of your target customer, because they are in research mode. For this example, our buyer is purchasing airline seats. Here are some examples of questions they may be asking:
How many seats can I fit into an airplane comfortably and safely?
Do I need to upgrade my current airline seats?
Do they meet industry standards and safety requirements?
How do I prevent lawsuits from injured passengers?
What is the newest technology in airline seats?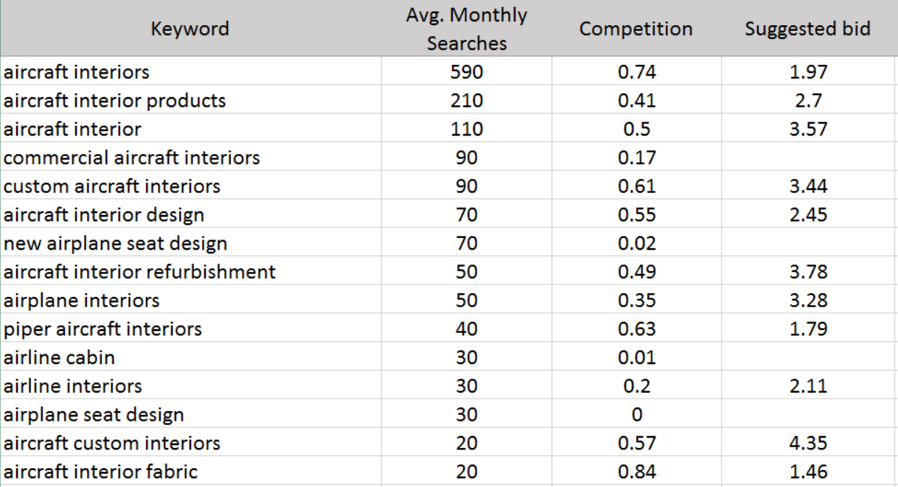 Take these keywords and the questions above to build out content that provides solutions to your buyer's pain points. This content can look like blogs, free downloads, case studies, and how-to videos.
The Consideration Stage
The consideration stage is where a problem has already been discovered and the evaluation process begins. In this stage, your buyer maybe be asking questions like:
What products are available in the airline seating marketing?
Who are the suppliers of airline seats?
Reviews of different seats available.
Pros and cons of purchasing seats vs. refurbishing seats.
What are the seats made of?
Cost of a seat?
How comfortable are they?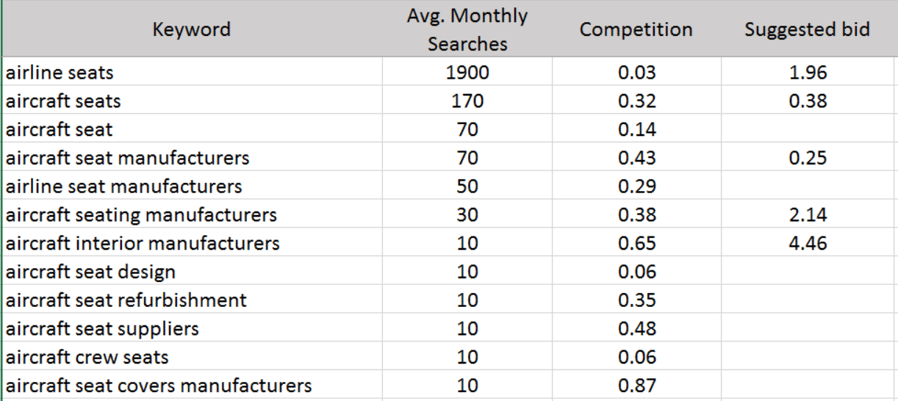 In this category, the content you offer can vary, but make sure to keep it educational. Searchers in the consideration stage are still looking for information. Downloads, case studies, checklists and even comparison reviews are great for this stage.

The Decision Stage
This part of the journey is where the magic happens. These are the search terms for the person ready to buy.
The keywords in this section are easy to determine and where every business wants to rank on the first page for popular search engines. These are the golden keywords in which most SEO professionals focus their efforts. Buyer queries in this stage may look like:
What options are available in size, color, comfort, safety and upgrades?
Are there discounts available?
Do they come with a guarantee?
What is available for purchase?



This content will always be your web pages that talk about your company, your products, price, quality etc.
Key Takeaway – Never Lose Sight of Your Buyer!
The buyer's journey is important to everything from your website design, how you write the content and even how you promote your web content. It should never be far from your mind. Building your keywords with these three categories in mind – awareness, consideration and decision – will help to build a website that will convert.
Looking for more tips to help optimize your website for conversions? Check out our infographic, The 10-Step Checklist for Your Next Website Redesign.