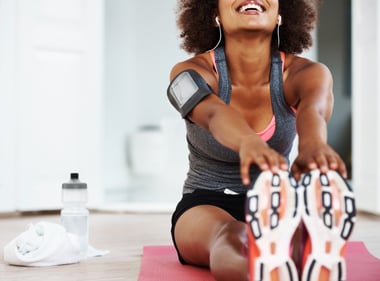 Whether you're an agency like us, or a business like one of our clients, there is a commonality that we all seem to share: we never feel like we have enough time. If you find yourself constantly trying to beat the clock, you are not alone. According to social CRM technology recommendation firm Software Advice, ninety-one percent of marketers say they have difficulty deciding which specific tactics are most effective, which means it's even more important to hone in on the activities with the greatest impact and to squeeze the most from each minute invested.
Social media management is often a full-time job, but what about those of us wearing many marketing hats? How can we effectively and efficiently harness the power of social media? With a solid routine, a few tools, and 30 minutes a day, here's how many of you can whip your B2B social media campaign into shape.
Prepare Before You Post
Like any good workout, your social media strategy will be even more effective with a proper "warm up". Start by determining the main objectives of social media for your company. While the list could be long, we've tried to narrow it down to five key areas:
Be a meaningful provider of insights and information to your targeted audience

Curate unique, engaging, and shareable content that is true to your company, brand, and purpose.

Generate more exposure of your company's value to clients.

Extend your company's voice by engaging with followers, influencers, potential customers, and brand evangelists.

Analyze and measure your efforts.

Fine tune to improve.
It's a big job and you're going to want the right equipment. Luckily, there are social media tools that can make your life simpler. Start off with a social media management programs like Hootsuite, or HubSpot's social media tool, where you can manage social media channels for multiple profiles all from one dashboard. Next, check out Buffer for time saving ways to post interesting content, at the most optimal times. And Zapier is a great tool for making all of your apps work together and automating tasks. Many of the social media platforms themselves have helpful tools, such as Twitter's list tool that allows you to create curated lists of users. You can set up lists for "Industry Influencers" "VIP," or "Target Clients" and easily locate the content you need, and those important users you want to engage with. Now that you are prepped with key objectives and helpful tools, you can start the timer and dive into your 30 minutes!
1. Share
Find new outsourced content to share. Good go-to sources for content can be found using Feedly, or check your targeted Twitter lists to see what's trending in your industry. Don't forget to show you are active and engaged by putting your spin on shared content. Retweet, share, or post in whatever platforms you are using, but be sure to add your own thoughts to the conversation. In a perfect world, you'd dedicate one day a week to sourcing content, including original content you've created, and schedule in your social media management tool. A good rule of thumb - stick to the 10-4-1 rule when building social media schedules:
10 of every 15 social media messages should be outsourced (other people's content)

4 of every 15 posts should be your own content (blog post promotion)

1 of every 15 posts should link to a landing page for your premium content (eGuides, whitepapers, etc)
2. Engage
Check each of your socal media channel notifications (i.e. LinkedIn, Twitter, Google+, etc.) and respond to anyone who has interacted with you or your content. Head over to LinkedIn and follow up with any new connections. Remember: not all interactions you garner online may be positive. Have some disgruntled users targeting you on your feed? Be sure to read this blog post before you respond!
3. Engage More!
As a social media manager, you are always looking for new engagement opportunities. Can you strike up a conversation with any new connections that fit your target buyer persona? Sort through your lists of VIPs and like, favorite, retweet, or comment on their posts.
4. Analyze
Evaluate the success of the content you've posted. Facebook, Twitter and LinkedIn now have their own analytics pages that give a bit more insight into the impressions your content is getting. You can evaluate what types of posts were engaged with the most or the least and determine your future strategy.
5. Wash and Repeat
Social media takes time to build traction. The more active and engaged you are, the quicker your audience grows. Take the time to fine tune your voice, content and strategy and you will see more leads generated. Now that you are familiar with the tenets of a productive weekly social media routine, you should feel confident that you're well on your way to building a solid strategy. It is important to remember that not all of these components need to be done every single day; you may want to create your social schedule at the beginning of the week, and alternate your 30 minutes per day analyzing and engaging. Whatever your routine may be, allowing at least 30 minutes per day to focus on your social media strategy will help to ensure you're continuing to put your efforts in the right places.
If you are looking for good content to share, or you just want to read more about B2B marketing, subscribe to our blog.