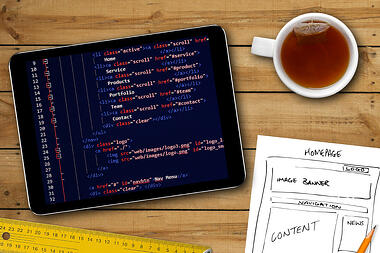 For marketers looking to improve the ROI on their website, SEO content is key. "Wait a minute," you might be saying to yourself, "I heard SEO was dead!" Nope. It's still very much alive and well. In fact, a BrightEdge study found that organic search still drives 51% of all visitors to B2B and B2C websites, outweighing all other non-organic search channels, including paid search (10%) and social (5%). Not only are search engines driving more traffic, but they are sending the most valuable visitors to your website.
It's true that tools like social media are becoming a bigger part of the picture, but organic search still yields the most motivated audience. Clearly, an SEO-optimized website should be a priority, but times have changed. SEO has evolved substantially in the past 5 years and even many seasoned SEO practitioners have found themselves uncertain about what to do next. So, how do we optimize for SEO in 2015?
When Google did away with exact-match keyword targeting in AdWords back in September, the SEO world braced for impact. These changes, however, showed that Google and other engines are continuously evolving to better serve the needs, and answer the questions, of their consumers (something we as Inbound Marketers strive to do as well). In this way, the move towards intent-focused search queries is an incentive for businesses to create unique, high-value content that is specific to the pain points of their customers.
Here's the great part: when you do this you are naturally creating positive SEO. Social media sharing builds links and quality content tells search engines that your site is about subjects that are meaningful to searchers. While you are creating valuable copy and content for your website, there are some best practices for optimization to keep in mind.
Choose Your (Key)Words Carefully
Keywords still matter – a lot – it's just how you use them that has changed. Don't assume you know what keywords to optimize for. Instead use a free or paid keyword tool to narrow in on the words that people are using to find the pain points you solve. Use a tool that will also tell you the level of difficulty you can expect to experience to achieve Page One ranking for each keyword so you can better target your efforts.
Don't forget long tail keywords: longer phrases of keywords that are more specific and have a better chance of bringing you traffic. For example, Marsden & Associates would not optimize for just "Marketing Agency". Instead we would use "HubSpot Partner Agency Atlanta" to reach a more targeted audience that is in line with our buyer personas.
Once you have determined the keywords you want to go after, you'll want to focus on four main areas of your website: H1 tags, meta descriptions, content landing pages, and blog posts.
1. H1 Tag
For search engine purposes, keep your H1 title tags fewer than 72 characters, and make sure your keywords appear in your title. It's best to place your keywords close to the front of the title, but not necessarily at the sacrifice of a compelling headline. You can always keep the more original title and make use of the alternate title tag feature for more SEO value. Remember, the H1 is often the first thing a user sees after landing on a page; if the headline makes them feel confident that they've found the information they're looking for, they will likely spend more time on that page.
2. Alt Text
We all love visual content (images and videos) and so do search engines. However, search engines cannot crawl images or videos like they would for page copy. This is where alt text plays a valuable role. Alt text allows search engines to crawl your images and know exactly what it is. It's a short description or phrase about the visual content used on the page. For instance, if you use an image for a blog post, you can simply include a keyword (ideally the keyword focus of your blog post) into the alt text of the image. That way search engines will be able to crawl both your blog post copy and any visuals within the post.
3. Meta Descriptions
Meta descriptions are no longer used by search engines to determine ranking, BUT they are key to getting click-throughs. A Meta description is essentially a 160-character "clip" of copy that shows up in the search results to describe your content. A good Meta description should contain your keywords, since people are more likely to click on links that contain the words they originally searched for. It should also be clear and compelling; this is your chance to sell your content and get the click. Remember: meta descriptions should be specific to each page, giving keyword-specific descriptions of what visitors will find on that page of your site.
4. Landing Pages
You can think of your website as your virtual elevator speech. The first goal of any website is to explain concisely who you are, what you do, and more importantly, what problems your company can solve. Secondly, you want to invite your visitors to engage with you. One of the best ways to do this is to provide content that is meaningful to them, such as downloadable E- guides on relevant topics, infographics, or product demonstration videos. Creating keyword-driven landing pages that clearly and easily describe the content you're offering is a strategy that fulfills both of these goals. Happily, it's also a solid SEO strategy.
Landing pages, unlike other website pages, are those specifically designed to prompt a desired action or result for your business. By creating valuable content for your website users, and putting them on SEO-driven landing pages, you are increasing the likelihood of visitor retention and conversion. Just as you would for any other piece of SEO content, remember to focus on including keywords in titles, subheadings, and within the copy on your landing pages. All of this will add up to a sharp website that draws in users and signals to search engines that your site is valuable.
5. Blogs
Search engines love updates. No matter how well you write your initial website, if you don't continually provide fresh content, Google and others will ignore you. The best answer for keeping your website refreshed? A blog. If you have not already made blogging an important part of your inbound marketing plan, place a priority on it now. Blog posts, (with well-chosen keywords), provide continual updates for your website, build contextual web content for those keywords, and naturally build back links through social media sharing. One note of caution – blogs are intended to inform and educate, not to sell, so make sure you are always providing uniquely valuable content for your visitors.
When done right, your blog will create a brand voice, establish your company as a go to resource, convert website visitors into leads, AND build your SEO. A win-win-win.
Getting found online with a Search Engine Optimized website is step one on a winning lead generation program. Ready for more? Check out our eGuide, The 30 Greatest Lead Generation Tips, Tricks & Ideas.