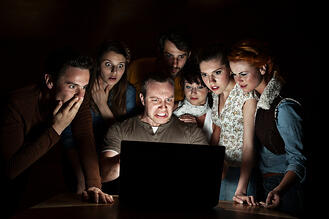 For most B2B companies, the purpose of their website is to:
Establish credibility

Inform prospects and clients of their capabilities

Convert visitors to leads by offering relevant content that requires visitors to complete a form

Give visitors a reason to come back for more/fresh content
In some situations, businesses who are not seeing significant traffic or lead generation from their website may look to a complete website re-design to fix whatever ails them online. But sometimes there is nothing wrong with the design, and the issue is with the content. How can you tell?
Understand Your Company's Goals and Your Visitors' Needs
In 2001, I was a member of a user-centered design team that developed a website review product for companies that wanted fast answers for their most pressing website questions.
Before we ever looked at a website we would send the client a Site Vision Questionnaire with fewer than 20 questions on it. Our evaluation of their website was based totally on usability issues and the clients' answers to those questions.
While the web has changed dramatically since then, some of those questions are as pertinent as ever:
Why do people visit the site?
What do you want visitors to the site to accomplish?
Briefly describe a typical visitor to the site.
What's the first thing you want a visitor to do when they get to your homepage?
Are graphics and layout dictated by branding standards or other corporate directives? If so, how?
What's the rationale behind those directives?
Rank these statements in order of importance, as your users would:
__I am busy and need to use my time well
__I need to feel that I got what I was looking for
__I want an experience that is unique and compelling
__I need to be confident that the result is correct
__I want to be able to use the site without help or feeling like I am lost
What problems do visitors report most frequently?
What is the biggest problem that you see with the site?
Get To the Root of the Problem
Answer the questions above without looking at your website. Then, review your website and see if you can detect any of these problems:
Only one or two ways to collect visitor info and generate leads (content)
The impression created by the website is not the identity we want to project (design/branding)
Not showing up in search engine results (content)
It's hard for people to find what they're looking for (design/user interface)
No one reads our blog (content)
It looks just like our competitors' websites (design)
When you click on a link, the information at the other end doesn't live up to the promise of the link (content)
It looks tiny on a mobile device (design)
There is not much for visitors to do (content)
Visitors don't contact us (design, content, or both)
Takes forever to load (design)
At the end of each page, the content just stops without telling the visitor what to do next (content)
Now That You've Identified the High-Level Problems, What Do You Do About Them?
Were the problems you marked equally content and design related, or are there more of one than the other?
If they are all design problems, go find a great designer. If they are all content issues, then don't worry about the design; just get the content right. Content solutions could include re-writing the website copy, adding a blog (or making the one you have more relevant), posting how-to videos, and more. Content Marketing Institute recommends a mix of content types for optimal effect.
In most cases you will discover some problems of each variety, design and content.
While design will make the first important impression on your audience, it's the content you will rely on to generate leads and customers. Your prospects are looking for answers to their problems, and a great looking site alone won't answer them.
Still not sure if your website needs a refresh? Answer the 12 questions below to find out.