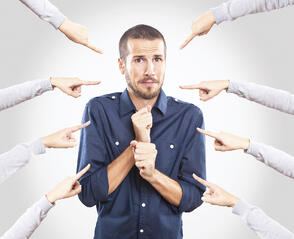 Fact: our inboxes are jam-packed with marketing emails. With the typical email subscriber receiving a staggering average of 416 commercial messages a month, an email must shine to be seen amongst the masses.
While it's nice to be noticed in the crowd, you don't want to stand out in the proverbial sore thumb sort of way. No one likes a sore thumb and they dislike a bad marketing email even more. With 60% of marketers reporting that email marketing is producing an ROI for their organizations, it's important to get your emails right. You can learn by seeing what some marketers are doing very, very wrong.
Bad Subject Lines:
Your email will live or die based on 50 characters or less. People decide which emails to open or delete based on the subject line. All of your work will literally wind up in the trash if your subject is not compelling enough. Bad email subject lines include, but are not limited to:
The word FREE is at the top of the list of words known to trigger spam filters.

ALL CAPITOL LETTERS look childish and spammy.

Over use of exclamation points!!! This mistake is often seen in conjunction with CAPITOL LETTERS!!! Come on, is it really

that

exciting?

Anything that would cause you to roll your eyes.
Amateur Design:
Design is everywhere, from the layout of our home screens and mobile devices to the signs we drive past on the road. We see so much design on a daily basis that bad design is particularly jarring to the senses. Ideally, we would all have a professional designer on board to make sure our entire marketing asset arsenal was up to snuff, but if this is not an option you can still brush up on your esthetic. For B2B emails, simple, clean design with quality imagery is the goal. Here are a few hallmarks of bad design to avoid:
Busy, overly bright layouts.

Clip art, bad stock photography, or images that don't pertain to your message.

Design that doesn't work on mobile devices. 48% of emails are opened on a mobile device, so it's a must that your message looks good for readers on the go.
The Wrong Words:
Like design, the importance of good copy cannot be understated. The right words can take your marketing message from a standard sales pitch, and elevate it to a story that will engage your audience. It may seem simple to write a quick email, but when you're busy and focused on the big picture, mistakes can happen easily. A little slip up like to verses too can undermine the integrity of your message. We're not all blessed with a team of copywriters, and while you may not be a wordsmith yourself you can still clean up your copy by avoiding these writing faux pas:
Grammar mistakes.

Overly formal tone.

Droning on and on. In a world of 140 characters or less, it's vital to get to the point.

Please refer to the previously lamented overuse of exclamation points and capital letters. DON'T DO IT!!!
Now What?
And perhaps the most grievous mistake made in a bad marketing email: failure to include a call to action. Informing your email recipient of your message is only step one. It's what you want them to do with that information that's important. Whether it's a click through to your website, or an invitation to keep up with your company on social media, make the next step clear, compelling and easy.
Now for the good news, a recent study determined that email is almost 40 times better at acquiring new customers than Facebook and Twitter.
A polished email marketing campaign can do wonders for marketers. If you're ready to step up your inbound marketing game, start with our ebook: "The Must-Have Guide for Highly Effective Emails".