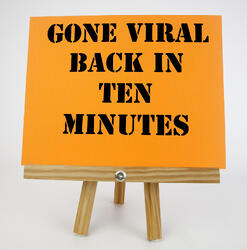 B2B companies that are new to inbound marketing typically have one question in common, "What are we going to blog about?" Judging by the number of corporate marketing blogs that start off like gangbusters and then fade away, it's a very good question. But before that question is addressed, one other order of business needs to be taken care of.
For your blog to reach its potential audience, it will need to incorporate the words and phrases your clients and prospects are likely to use when searching for solutions you provide. Keyword research will not only help you identify those words and phrases, it will inform you of some of the topics you need to blog about.
In deciding what to blog about, as with choosing keywords, think more about your audience and less about what you would like to discuss. Your blog post topics need to be relevant to your audience and provocative enough to pull busy, harried readers in.
Here are 9 different blog post topic categories to keep your B2B blog fresh, relevant, and popular.
1. Address a pain point
Innovation may be the lifeblood of business, but it's the pain points that create customers. Take one pain point that is common to your customers and write about it. How does it impact business? Can you cite a specific example? Is there data to back up your story?
2. Cite news coverage of significant industry issues
When a major issue that affects your clients and prospects is in the news, blog about it. Nothing gets the attention of busy tech execs faster than a headline that starts with, "Wall Street Journal predicts major shakeup in (industry you serve)". Of course, it's even better if it's an issue that your company addresses and you can point to a solution.
3. Refute a common misconception
Every industry and type of solution is victimized by misconceptions that permeate the market. Address these misconceptions head-on in your blog. Make a list of misconceptions that plague your company. That should give you plenty of post topics to address in your blog.
4. Quote well-known authorities
There are two ways to do this:
Choose a significant issue for your market and create a post that incorporates the opinions of several well-known authorities. Their opinions are already online, so you won't have any problem finding them. In choosing your authorities, look for those who have sizable followings. If your brand is not well known, you may want to include experts who are not in the top tier, as they will be more likely to acknowledge you for citing them. Link back to where their thoughts are published and let them know you are quoting them. The topic will interest your audience, and the cross-pollination can help you build a large audience for this post.
Interview one industry expert everyone in your market will recognize. Be prepared for the interview and make sure to record it. If this skillset is not within your organization, hire someone to conduct the interview for you.
5. Prove your solution works
Let's say your company's brand promise includes helping clients generate more qualified leads, and in the past 12 months your 14 clients have experienced an average growth in qualified lead generation of 37% over the previous year.
In approaching this topic, be sure to make the blog post about the solution itself rather than your company in general. The idea is to prove that your approach works, not to write a sales pitch.
6. Answer a common question
Sure, your website includes a Frequently Asked Questions (FAQ) page, but some questions keep getting asked over and over again. Maybe they don't read your FAQs. Maybe the answers aren't clear. Whatever the case, when a question keeps being asked repeatedly, consider giving a more thorough answer in the form of a blog post.
7. Introduce a new product or service
Whenever you introduce a new product or service, you're going to promote it everywhere you can. That should include your blog. From the blog you should link to other content about the new offering, including white papers, videos, tip sheets, etc.
8. Ride the media wave
Has your company been referenced in the news or other media? Celebrate that fact with your readers. Link to the original source whenever possible. Focus on why you were chosen to be in the spotlight, as it is likely to be a concern for your audience as well.
9. Promote your content
Whenever you create a new white paper, ebook, video, or case study, promote it on your blog and link to the content (or landing page from which it can be accessed).
You may have noticed that the first four topic generators do not necessarily involve your company, while topic generators 5-10 do. To keep your blog from becoming a blatant self-promotion tool, you'll want to use the first four topic generators three or four times for each time you use the second five.
Before you get started with your blog, come up with two to three months worth of blog post topics you want to write about and create an editorial calendar for your blog. This is likely to seem like a challenge at first, but in the long run your editorial calendar will be one of your biggest aids. Believe me, nothing makes blogging on a regular basis harder than having to think up a new post topic each time.
Once you've chosen blog post topics, check out HubSpot's Blog Topic Generator. It's really more of a blog title generator, and it will inspire you to write irresistible titles for your blog posts.
Still feeling a little uncertain about blogging? We recommend this blog post from our Principal: