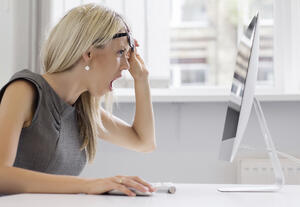 Social media brings a personal touch and human voice that is vital to our digital strategies. But, people will make mistakes and technology will have its glitches. So what do you do when Sally Social Media Manager accidently sends out a personal tweet from the company account? How do you respond to clients who are leaving less-than-constructive feedback all over your Facebook wall? And, what is the proper plan of action for a full-fledged social media meltdown?
Your online reputation is worth its weight in gold, and social media mess-ups can lead to costly mistakes for companies. Here are some tips that will help you avoid these blunders in the first place, as well as a strategy for what to do if you find yourself in the middle of a bad social media situation.
An Ounce of Prevention
The best way to handle a social media mishap is to not make a mistake in the first place. Make the time to carefully review the voice and tone of your company. Periodically go over the guidelines for what the team should—and shouldn't—post. Just like dinner with extended family or cocktail parties with acquaintances, politics, religion and the like are generally best avoided.
Set up a chain of approval. Content should be reviewed and approved by more than one pair of eyes. Negative feedback should be responded to quickly, but pause for a moment and run your response by someone else on the team. Pausing can prevent a lot of problems. Are you positive that URL is pointing where it should? Do you really understand that trending hashtag? Social outlets are a blur of activity as we all rush to push out informative and entertaining content, but it is important to slow down and ensure the content is correct.
When the Damage is Done
The first thing to remember is that not every social media mistake is a crisis. Each mistake will be unique and so should your response. You'll need to view the problem from multiple angles. Consider the issue; take a look at who is being affected and what the consequences are for the brand. Next, determine which teams to call upon. Is this something easily handled by management and marketing? It always helps to have a plan for the worst case scenario. How quickly can your PR team put together a campaign to address a serious problem? Are you confident that your legal team could jump into action if needed? Luckily, most of what you will face will be easily handled with the right response. Get familiar with these six golden rules:
Knowing is half the battle. You can't respond to a situation that you don't know exists. Set up protocol for listening in on your social channels. The last thing you want to walk into Monday morning is an online reputation problem that's been festering all weekend, so make sure your plan includes covering evening and weekends. Look into tools such as uberVU from Hootsuite that give you real-time alerts when there are spikes in your brand's activity.

Drop the corporate speak. As tempting as it may be, refrain from responding to a complaint about your shipping practices with an excerpt of your shipping policy. You want to be empathetic, friendly and most of all, apologetic, when in fact you did make a mistake. If you didn't make a mistake, but were misunderstood, refer to step one: Be empathetic. Take the time to kindly – not condescendingly – explain the facts. This can win over not just the party involved, but many listening from the sidelines.

Get personal. Consider having a representative of your company respond. A response like, "Hi, this is Sally a manager at X company. I am so sorry to hear about the problem you had with shipping..." will often go over well. The person with the complaint will feel that they've been heard and a personal touch goes a long way in the digital space.

#SorryImNotSorry. "I'm sorry you feel that way," is not a real apology. First, offer a sincere apology. Yes, it may be difficult to truly feel sorry, especially if someone is attacking your brand's reputation, but the payoff will be well worth your extra effort at empathy. Next, let them know what you can do to make it right. Usually they'll be satisfied and you'll have scored points with the onlookers for the way you handled the situation.

Don't get in a fight. Remember the rule of three. Anything past three responses to the same person's negative comments constitutes an argument. The anonymous nature of the digital world emboldens people; negativity spreads like wild fire and the next thing you know trolls seem to crawl out of the woodwork. If you can't appease the person, offer your phone number or email address, and encourage them to contact you that way.

Honesty- it's STILL the best policy. It was true when your mother told you, and it's true now. If you think you have a brand reputation problem after a mistake, just imagine what would happen if your company lied to cover that mistake up. Be honest, and know that this will all blow over very soon.
Cleaning up a social media mess is never fun. But you can use the experience as a way to re-evaluate your policy and revitalize your social media efforts. Want more? Check out info on social media for the B2B world.
Ready to grow your personal brand on social media? Check out some more of our expert social media tips for B2B companies here: