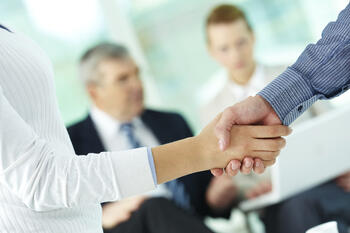 The rift between sales and marketing teams has been well documented for decades. According to a study by Marketo, a leader in the B2B marketing automation space, teams that foster a harmonious relationship between sales and marketing close 67% more deals than those who do not. That's a huge difference!
But what if the disconnect isn't caused by anything other than a language barrier?
You see, sales speaks in the ancient tongue of their ancestors, whose many dialects include terms like quotas, pipeline visibility, and win rates. While similar, marketing's language is derived from marketers of old, who used terms like brand essence, demographics, and landing page conversion rates.
It's a good thing that in the world of Rosetta Stone and marketing automation software, language barriers no longer serve as an adequate excuse. Here are 4 ways to leverage marketing automation to speak the shared language of sales and marketing alignment.
Get lead alerts by integrating your CRM
One awesome feature of B2B marketing automation tools is having the ability to sync up with your CRM and receive automated lead alerts when prospects take certain actions, allowing you to strike when the iron is hottest.
Close the loop between the two departments
Marketing can use the data from closed loop reporting to develop new content and campaigns. This kind of collaboration creates what is known as a virtuous cycle in marketing by allowing sales to focus on bottom-of-the-funnel prospects and marketing to provide content to the middle and top of the funnel.
Use automated workflows to nurture leads until they are ready for sales
Using email workflows helps to nurture leads automatically until they are ready to speak to a sales rep. This is done by creating pre-set email workflows intended to increase interest among and catalyze further action by prospects, allowing you to step in when the time is right. Marketing may be setting up these workflows but it will be sales who benefits from knowing the interest levels of their prospects.
Use tools like Zapier to customize the experience
Web automation tools like Zapier and IFTTT (If This Then That) allow for hundreds of ways to customize your marketing automation without messing with the process for the rest of the team or department. For example, you can use this program to get automated text alerts when certain prospects take actions on the website.
Marketing automation tools are the pathway to better understanding and more effective teamwork between sales and marketing, which will lead to increased revenue and more sales for B2B businesses. Try these tips and let us know how it worked for you.
Want to learn more about how creating a shared language between your marketing and sales teams can benefit your business? Contact us today!