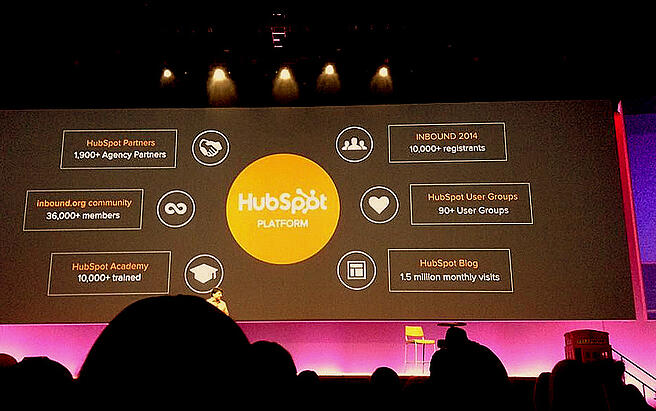 Team Marsden attended HubSpot's inbound marketing conference last week, INBOUND14, and it was well worth the time. With an impressive roster of speakers, deep dives into marketing tools, and of course the networking opportunities only an inbound marketer could dream of, Boston was booming with potential and energy.
Here's some of the goods from INBOUND highlighting two themes that seemed to echo down the halls of the Boston Convention Center: perspective and people.
Perspective
There were many sessions conducted throughout the 4-day marketing madness, but one that jumped off the app (yes – there was an app for INBOUND) was from HubSpot CMO, Mike Volpe. The session provided an inside look at HubSpot's marketing program, from vision to process. During Mike's session, he emphasized the concept of "retraining your brain" when you think about marketing today. It's not enough to simply acknowledge that marketing has taken a dramatic shift: you have to put it into practice.
This does not mean that traditional marketing is irrelevant. It simply means that marketing has become a much more dynamic, two-way communication that has a longer lifespan than just placing an ad. As we've seen with our clients, traditional and digital marketing tactics merge beautifully with the right strategy.
As Mike explained, the inbound marketing methodology simply enables companies to attract more buyers where they are, convert them for services/products they actually want, and continuously have a pulse on their customers in order to delight them in new ways.
Here are some additional nuggets of wisdom from Mike that he encouraged today's marketers to understand:
"Even if you acknowledge that the philosophy of marketing has changed, you still have to retrain your brain."

"The seller is no longer in control. The buyer is in control."

"[A big part of inbound marketing is content marketing.] Content works over time. When creating content versus placing an ad, you're owning your marketing, rather than renting it."

"Your competition is the one competing for consumers time and attention, not necessarily selling the same service and product as you."
People
At INBOUND there were several keynote speakers that started the day with inspiration, leaving attendees feeling like they could take on the world. But one speaker brought the auditorium to its feet with roaring applause: Simon Sinek.
The "Author and Optimist" is best known for speaking on leadership and inspiring others to take action -- and his keynote was no exception. He focused on businesses needing to understand the complexity of the human spirit; what can drive employees, what can break them, and what managers can do to get the best and the most out of their team.
Leaders in organizations must go beyond just meeting quotas and assigning tasks, but also focus on the well being of those responsible for completing those tasks. The digital marketing world is transforming. As it transforms and becomes more demanding, new ways of motivating and sparking creativity must be birthed – and it starts from the top.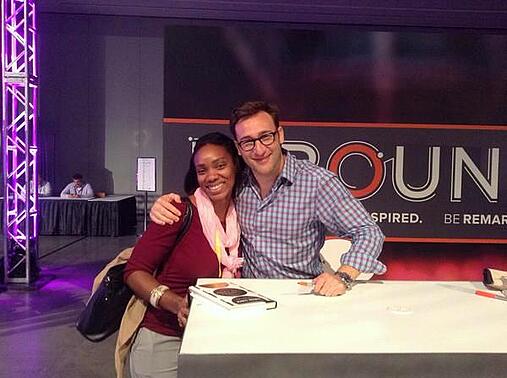 Although Simon laid the heaviest emphasis on leadership and teamwork in the work environment, other speakers like Guy Kawasaki and Dharmesh Shah, shared their own thoughts on leadership, managing your team, and doing both successfully to take your company to the next level. Check out some their quotes below:
"Hire people better than you at their function. That makes a great company " @guykawasaki #inbound14

— Lana Layne (@Lana_Layne) September 15, 2014
"Share the serotonin in your organization and everyone wins" - @simonsinek #INBOUND14

— Marsden & Associates (@MarsdenAssoc) September 16, 2014
"The job of leadership is to create an environment where trust and cooperation thrives." @simonsinek at #INBOUND14

— Joe Chernov (@jchernov) September 16, 2014
HubSpot Founder/CTO @dharmesh talks "people, perspective, and platform" in inbound marketing #INBOUND14 pic.twitter.com/7IHz5wQEfG

— Marsden & Associates (@MarsdenAssoc) September 16, 2014
The conference provided a wealth of insight and perspective on marketing today, leaving our team pumped and ready to tackle any 800-lb gorilla. It was truly an experience that left our team anxious to do remarkable things for our clients. So in honor of INBOUND, here are 5 quick tidbits from the conference to try in your marketing programs:
Want to learn more about inbound marketing, and how it can benefit your business? Download our eGuide today!