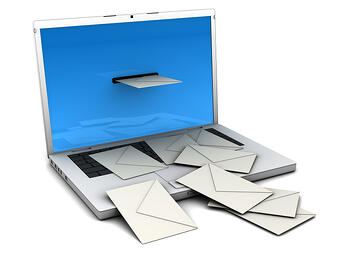 Earlier this month I received a copy of a Content Management Institute (CMS) publication. A real-life paper magazine. I stuffed it in my briefcase instead of the wastebasket for two reasons:
The novelty. Because I have been diligent in opting out of so many paper publications, this one took me by surprise and I found myself wanting to take a look at it.

I've been…prepped for this moment through a lead-generating program from CMI. Because I have downloaded content they have offered, they have my name and send me emails about their content and offerings. I have been nurtured along digital tentacles to this point where I was ready to look at the magazine.
As marketers we are sensitive to our own engagement and purchasing behavior and the effective and non-effective techniques that lead us to purchasing (see this blog on keeping prospects from opting out of emails). So this was an "aha" moment for me about how the emptying of our postal mail boxes over the past few years has created the space for a return to printed pieces, whether it is a printed newsletter or magazine, a mailed postcard or brochure, or an ad in a printed publication.
According to a 2012 Harvard Business Review report, direct mail has a slightly better response than email – 25% vs. 23%,­ but direct mail costs 100 times as much. So increasing ROI of direct mail is key to making an investment in it. And digital provides the means to increase the ROI of direct mail through:
-QR (Quick Response) Codes, barcodes made specifically to engage people through their mobile devices, that can take the prospect to specifically designed digital content to support the printed experience.
-PURL (Personalized URL), is a web page designed for one person. PURLS allow marketers to direct a prospect to a page with personalized or targeted offers rather than a general website page.
PURL addresses, such as www.prospectname.yourcompany.com, get prospects to a specific page rather than roaming around your site from the home page and potentially missing the key CTA you are offering.
PURLS also provide the means for better tracking in real time. They create a traceable way to measure engagement with a print piece while also tailoring the digital experience to reinforce a specific campaign (not just a link to your website homepage).
PURLS can open the door to a unique, personalized and interactive digital experience while also providing the keys to the kingdom for your sales reps, who can be notified when prospects visit their PURLS and instantly follow-up with the knowledge of specific products or services that are being researched.
QR Codes and PURLS have helped to bridge or integrate digital and printed marketing in a way that leverages mobile benefits from direct mail. A 2012 Direct Marketing Association study found mail with QR codes scored an average response rate of 4.4% vs. a 1-3% range for mail pieces without the codes.
Interestingly, Google and Apple, companies you might think would never send direct mail, actually do employ it. (Read more here) The fact is, since our postal mailboxes are less crowded, the mailbox is an opportunity to stand out.
And rather than send a blind postcard out into the cold prospect world, we can use the digital insights we have about prospects to send warm direct mail communications that are more targeted.
Since, like most marketers, I spend countless hours in front of my computer screen or a mobile device, it was enjoyable to curl up with a printed magazine…and to think about the path that got me reading it.
If you loved this blog, sign up to receive new posts directly to your inbox.