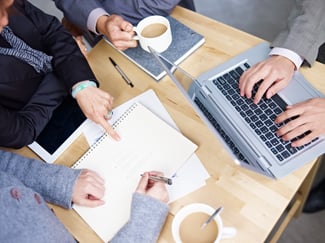 Every day I receive hundreds of emails from all different types of companies – from my favorite retailers such as Sephora to blogs from Marketo and HubSpot. Whether it is a B2C or B2B email, what all these emails have in common is that I haven't unsubscribed from them…yet. But as email boxes are getting more cluttered, more people are opting out.
Here are four strategies to use in your email marketing program to prevent prospects and customers from unsubscribing:
1. Personalize
According to HubSpot's Science of Email research, including a person's first name in your email greeting improves click-through rates by 14%. In addition, prospect and customers enjoy having a personalized digital experience in many different ways.
Despite the impressive benefits of email personalization, a surprising number of marketers aren't utilizing personalized content in their email marketing. Check out this HubSpot blog highlighting ways to personalize your email.
The average clickthrough rate for B2B marketing emails in Q2 2013 was 1.7% (Epsilon). (Tweet This Stat!)
2. Segment! Segment! Segment!
This past weekend, I received an email from Starbucks asking me to download their app. I was puzzled. Not only do I have the app, I have been using it for 3 months and have reached Gold membership status. What this tells me is that their email marketing program is not based off user behavior. Today, marketing automation tools complete 80% of the work for us by providing a range of list management and lead scoring capabilities.
Smart lists can be created using a variety of factors. For example:
User profile (company, job title, etc.)
Type of content downloaded
Website pages & blogs viewed
Website traffic source
Social media activity
Data provides insights about where prospects are in the sales funnel and what they are interested in. The more relevant email marketing is to your prospects, the higher the conversion rates and revenue potential.
3. Balance the Frequency of Your Offers
The more emails you send, the more quality offers you must provide your prospects. If you are just starting off your email marketing efforts, use a lower frequency and test your offers until you steadily see data that shows favorable responses from subscribers. Use a marketing automation tool to carefully monitor click through rates and unsubscribe rates. Then determine what is working and what needs to be modified.
838 billion marketing messages have been sent in 2013 (Forrester). (Tweet This Stat!)
4. Invest in Visual Design
I often see poorly designed email marketing and wonder why. A catchy subject line will get your email open, but you only have one chance to make an impression and stand out from all the other emails your prospect receives.
Take the time and invest in graphic design and create an engaging email template. Your prospects are not looking at the words until AFTER they have processed your content visually. Give them something worth clicking on.
Creating a thoughtfully planned and strategic email marketing program can be a game changer in how your company nurtures its leads and increases revenue. According to Experian, for every $1 spent, $44.25 is the average return on email marketing investment.
With that kind of return on each dollar, email marketing should be a priority item in marketing budgets. Understanding the strategies that will get your email campaign more closely aligned with the buyer journeys is the pathway to maximizing ROI.
Not sure what visual components go in an email template? Take a look at our eGuide that breaks down how to create the perfect email marketing template: