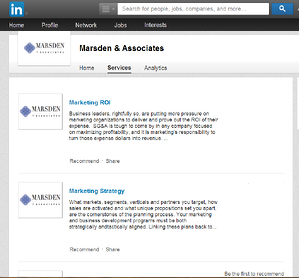 LinkedIn is doing away with Products & Services pages next month and many users are…NOT HAPPY. It's understandable. It takes time to create these pages and LinkedIn has not offered a very compelling reason for doing away with them, saying "We aim to provide a simple and efficient experience for our members. To do this, we're continuously evaluating how our current products and features are used, and seeking new ways to focus our resources on building the best products. This sometimes results in the retirement of certain features. So on April 14th, the Products & Services tab will be removed from all LinkedIn Company Pages."
LinkedIn suggests that companies use Showcase Pages and Company updates to take the place of the Products & Services pages. Some in the LinkedIn community are lobbying to forestall the change but chances are this is a done deal. Here's what you need to know to make the transition:
Saving Information on the current Products & Services Pages
LinkedIn says Company Page Administrators can recover Products & Services descriptions and recommendations by copying and pasting the information directly into your own document (very high tech). LinkedIn also sent emails regarding the change and the messages include a link allowing you to download a copy.
Creating Showcase Pages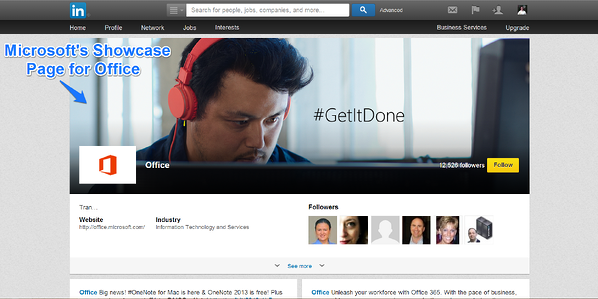 Showcase Pages were introduced by LinkedIn last November. They provide the ability to create separate pages for products or services so that companies can build a community of followers interested in a specific area of their business. Showcase Pages allow companies to track engagement and demographics, providing metrics and insights for that particular product or service. These pages can also be used for groups of products and services that appeal to a certain market segment.
The Showcase Pages differ in appearance from Company Pages with a larger hero (or lead) image and a two-column layout. As it stands now, you can create up to 10 Showcase Pages for your company. If you need more you can make the request to LinkedIn.
The directions from LinkedIn on how to create one are pretty straight forward:
Click the down arrow next to the blue Edit button on the Company Page
Select Create a Showcase Page.

Enter a page name and assign administrators for the Showcase Page.

You must be a 1st degree connection in order to assign someone as a Showcase Page administrator.

Click Create.

The page exists and can be edited at this point, but won't appear in search or in the linked pages shown for your Company Page yet.

Either you or the administrators you've assigned can finalize the page details, and then click Publish to make it public.
To get back to your Showcase Page, you can search for it from the top of any LinkedIn Page or go to your parent Company Page and select the Showcase Page in the page tree along the right rail.
Here is the information and image specs you'll need before you get started:
Showcase Page name. Please note that page names must be unique. For example, all of IBM's and Microsoft's names have their company name in them unless they are already unique. Microsoft has an "Office" page, but their CRM's page is "Microsoft Dynamics".

Showcase Page description (75-200 characters)

Industry

Name of at least 1 Showcase Page administrator

Hero Image (recommended)
Image specs:
Hero Image: Minimum 974 x 330 pixels. PNG, JPEG, or GIF. Maximum file size 2 MB. You can crop your image once it's uploaded.
Logo: 100 x 60 pixels. Image will be resized to fit.
Square logo: 50 x 50 pixels. Image will be resized to fit.
Here is a link to the LinkedIn FAQ about Showcase Pages for more information.
What is getting lost with this change?
According to LinkedIn guru Viveka von Rosen, the answer is plenty. She cites:
The ability to share a specific website for individual products and services

The ability to upload a YouTube video that "lives" on the page for specific products and services

The ability to send traffic to specific employees

The ability to add special offers that "live" on the page

The ability to add disclaimers that "live" on the page

The ability to receive recommendations for specific products and services

The ability to add specialties for specific products and services that "live" on the page
Some of these items can be added via links, but as von Rosen says it's just not the same. One thing is for certain, on April 14 your Products & Services tab will disappear. Until that time you can edit the products and services already listed, but you will no longer be able to add any new ones.
So What Should You Do?
We may not like this change, but as LinkedIn is one of the most powerful tools for B2B marketing, it is worth the investment of time to make the transition. We are currently building our own LinkedIn Showcase Pages so that they will be ready to publish before the April 14th deadline.
If you are planning to create your own Showcase Pages, we can help! Contact us to help you leverage all your LinkedIn opportunities and prepare for this important transition on company pages.