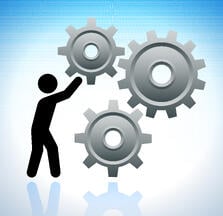 There is a lot of focus on the content, the voice, and the distribution strategy of getting more page views of blog posts. But when is the last time you did a mechanics scrub? Sometimes changing just a few small things can make a big difference in attracting more attention from Google, more clicks on your headlines, and more social shares.
Here is a mini-checklist to see if your blog posts are in alignment with best practices of blogging mechanics.
The Linking Liability
With best intentions to help the reader, there is a tendency to pepper blogs with external links that provide more information on a topic. But this tactic can backfire by diminishing your own credibility with Google as an expert. As a best practice, be sparing with the number of links you use to minimize giving away "link juice", and to prevent the reader from getting distracted and bouncing mid-article to another site. Try to keep external links to no more than 2 or 3, and less when possible.
Internal links are another matter. Linking to other pages on your website that have pertinent information is a good strategy. Be sure to use phrases that are keyword worthy as your anchor text, and have those links open in new windows. But again, avoid excessive linking to keep the bounce rate to a minimum.
Headlines Matter. A lot.
Headlines with 60 to 100 characters earn the highest click through rates according to a study by Outbrain. When looking at word count, the target range was roughly to 16 to 18 words.
This doesn't mean you can't ever go under or over but, we try and keep our headlines in the 60 to 70 character70-character range. One of our most highly shared recent blogs, The 4 Reasons People Will Read Your Blogs, had only 41 characters in its title. It's food for thought for us as we craft headlines.
The take-a-way is that if you are killing it on page views and social shares with 100 character headlines, don't dump the formula. But you might want to experiment a little. There are other components of blog headline writing that are important like keywords, but character count should be on your short list of mechanics to evaluate for driving click throughs.
Visual Punch
The expectations of readers about how a blog should look can vary according to industry and topic. Consumer blogs and lightweight topics lend themselves to more colorful visuals. But that doesn't mean you can't help a reader more efficiently find their way through more technical information. Images are a proven way to garner more blog views. Formatting is another technique to make a blog more visually appealing. Take a hard look at your blog posts. Are you using bullet point lists and occasional color punch to break up long tracts of information?
Internet readers like to scan information. Give them subheadings to help them jump to the information they want and to break up reading fatigue.
Use color and bullet point lists to create a visually appealing blog. Consider adding screen shots within the blog where appropriate or second images. This blog about must-read-stats on B2B social media garnered very high page views for us and is a good example of using multiple images within a blog. It also has a short headline of only 42 characters.
Social Share Buttons

Are you prominently displaying social share buttons? Look at it from the viewpoint of the reader. If they have to hunt to find them, you've lost. They should be prominently displayed on top with a minimum of clutter. And limit your share icons to the social platforms your readers most likely use. If your readers are not using Pinterest (at least not for interacting with your content), then don't include the icon.
So much effort goes into creating and distributing content. Don't let simple mechanics that can be easily adjusted put a barrier between you and your readers. Try some of these techniques and see if the needle moves.
Join the conversation and get even more expert insight and analysis on all things digital marketing by signing up for our blog.