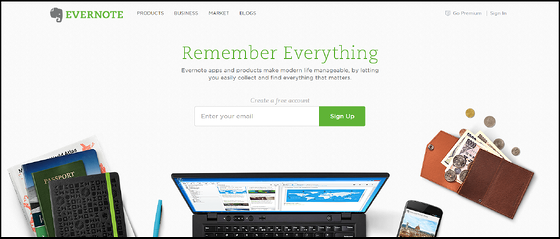 I've been using Evernote for years now. Since back in college, in fact, and it has served me very well in many different parts of life. Evernote is very seriously my external brain and an indispensible application for organizing my personal and professional life. There's nowhere it shines more than as the most pivotal component of my inbound marketing toolkit.
Here's why:
Great for writing content
This one is easy. I literally used Evernote to write this very blog. Whether on your tablet, a laptop, or you find a stroke of inspiration while waiting in line at Starbucks and all you have is your smart phone, you can type out an entire draft right into Evernote and send to your editor. You can even link to other notes in Evernote.
Keep notes synced in the cloud, accessible on any device
Using the mobile app, you can take and make notes anywhere you are. No matter when or where an idea hits, whether it is a blog post or task that you don't want to forget, just type or dictate it into a new Note on your phone and it's there on your desktop when you get back to the office.
Keep track of research found online, using the Web Clipper
A lot of times, you may find great material for future blogs or social media posts while working on other projects. If you don't want to break concentration, just hit the Web Clipper icon on your Google Chrome bar and save the page to a new Note. Now, when it comes time to write or schedule social media posts for the day, you've got the article right there waiting.
Read and take notes, using Clearly
Clearly is hands-down the best way to take notes and highlight text in a blog or article for research. This tool allows you to highlight certain text and then save to a new Note or print with the highlights intact. This is great for finding and remembering specific snippets or quotes to use in content you want to create later on.
Manage projects and collaborate with your team
Evernote has the functionality for sharing Notebooks, allowing for real time collaboration on certain tasks. If working with a team, you can easily share content (with highlights, if necessary).This is a much more effective strategy than "copy-all" emails that clutter up everyone's inboxes. Several people can edit a Note in real time, with very little headache.
Finally, Evernote is compaitble with all the major social networks. You can even create a live link and share it for all of your followers to see.
Evernote provides the organizational sanity to juggle multiple projects or with several people. Next week, we'll dive deeper into the "how-to" best practices of using Evernote for inbound marketing. If you are a beginner you will understand how to get started and if you are already using Evernote I will share a few shortcuts and personal favorites to get the most out of this incredibly helpful tool. And in case you are wondering, I have no ties to Evernote. I'm just a grateful fan of it for how it helps me get more out of each workday.
For more great tips, tricks, and hacks to use in your marketing efforts, sign up for our blog.
Connect with Reade Milner on Google Plus.