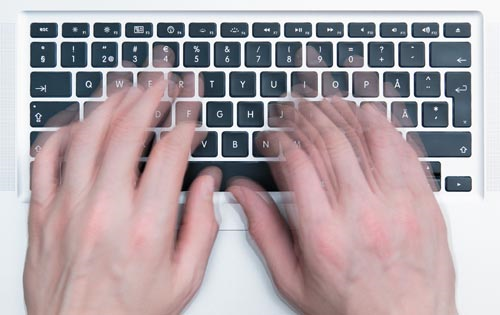 Copywriters know a lot about their clients. In my role as Creative Content Director for a marketing agency, I hear about their secrets on a daily basis - whether I am editing copy from another writer, the actual copywriter for a project, or gathering information for a website or special project, I have a front row seat to the business goals, challenges, and inside information of the companies we serve.
I don't take this position lightly. It's a privilege to be trusted with this information and to play a significant role in communicating with our clients' customers and prospects. But how much do companies know about the person they are trusting with all this information? Here is the inside scoop on the secret life of copywriters.
We get truly invested. Not in the creepy way some companies talk about how they "BECOME YOU." We're

not

you. But little by little we start becoming a seamless part of your marketing team and we root for your company and get invested in your success.

Copywriting is a relationship. When you are in a long-term content program with a client, it helps to have a friendly cooperative relationship between all parties. This is especially true with inbound marketing and content initiatives, which is about consistentency in getting fresh content out on a weekly basis and takes an investment of time to reap rewards.

We get excited when we are introduced to thought leaders and technical experts. They have the critical information about what makes you special and competitive in the market place.

We love when you put content in a calendar. It helps everyone to stay on point. If you do not have the resources to do this, hire us to do it for you.

We love spirited exchanges. It helps to stretch ideas. Having a high-trust relationship with clients where we can try out new concepts helps us to produce our best work.

We are baffled when clients don't let us know when important things are happening. Digital marketing is most effective when there are no walls between PR, Marketing, and Sales.

We often continue to refine even after submitting. We are always word smithing above and beyond to get the perfect "write" in our head to match up with the words on the page.

Writing case studies are a huge benefit in writing for your prospects. They are the best window into what clients truly think about your products/solutions and customer service.

We appreciate it when clients let us push the envelope for them. If the status-quo of your marketing copy was optimal you probably would not have hired us. We take pride in helping clients find ways to flex their market expertise in the most effective way.

Writing for a variety of companies makes our writing richer. Seeing the solutions, the technologies, the work culture of how multiple companies operate helps with context.

We are not technical writers. We storytell about technical subjects.
Here are the things we like best about being a copywriter.This is personal so perhaps it's more accurate to say the things that I personally like best about being a marketing copywriter:

Leaning about new technologies, new thinking, from subject matter experts. It's exciting to be in the know.

Being able to occasionally work from home in my pajama pants or from a coffee shop.

We greatly appreciate the support of our inbound marketing team that keeps us on on track with research and best practices for keywords and social media.
One more thing. We always want more time for that last scrub or edit. And speaking of time, this is part of the HubSpot one-hour blogging challenge. As I wrote on Monday, it's not really best practices to think you can write blogs for B2B companies in an hour or less. But when a deadline presses, pick ONE thing that you know inside and out and let it flow.
For more insights into the major trends for b2b marketing in 2014, click the link below to become an insider!