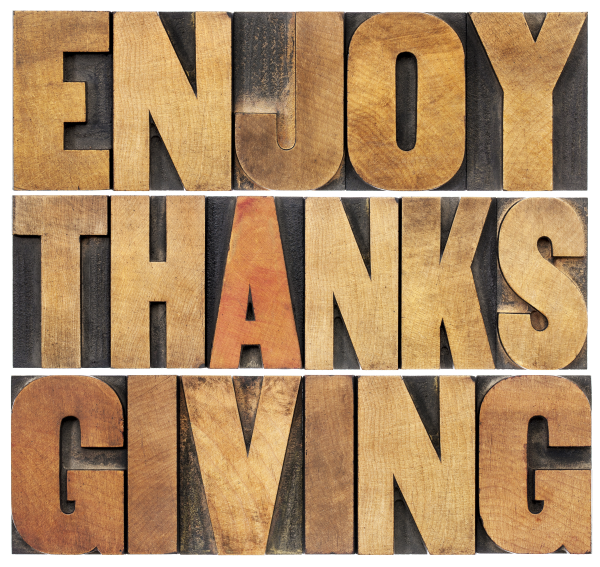 Thanksgiving brings with it an attitude of gratitude and an interesting history. We know how busy our clients are, especially at year-end. So we assembled a collection of tips for the kitchen, projects for kids, and fun facts and stories to fire up dinner table conversations. Enjoy!
Thanksgiving via U.S. Presidents
1. Who was the first President to declare a national day of Thanksgiving?
President George Washington declared a day of Thanksgiving in 1791, at the request of Congress, to celebrate the success of the American Revolution and the constitution. As with much of the early writings of the Revolutionary leaders, prayer and service to God played a significant role. Here is an excerpt of the proclamation (colloquial spelling left intact).
WHEREAS it is the duty of all nations to acknowledge the providence of Almighty God, to obey His will, to be grateful for His benefits, and humbly to implore His protection and favour; and Whereas both Houfes of Congress have, by their joint committee, requefted me "to recommend to the people of the United States a DAY OF PUBLICK THANSGIVING and PRAYER, to be observed by acknowledging with grateful hearts the many and signal favors of Almighty God, especially by affording them an opportunity peaceably to eftablifh a form of government for their safety and happiness"
2. Which President took a pass on a national day of Thanksgiving?
President Thomas Jefferson was opposed to issuing such national proclamations, especially ones that referenced religion. In reply to a letter from Rev. Samuel Miller as to why he refused to issue proclamations, Jefferson expressed concern for the dangers to religion that could result if the civil executive of the country makes statements that give the appearance of sanction to religious practices.
3. Which President can we thank for cementing Thanksgiving as a national holiday?
Abraham Lincoln standardized the holiday to the 4th Thursday in November in 1863, after the now-famous victory in Gettysburg. Sarah Josepha Hale is credited as a tireless advocate and campaigner to make Thanksgiving a national holiday. Hale was one of the first female American novelists and the author of the children's nursery rhyme "Mary Had a Little Lamb." For 17 years, she determinedly lobbied 5 Presidents before Abraham Lincoln finally agreed to the holiday as a unifying force for a nation torn apart by the Civil War.
4. Which President tried to move the holiday to the 3rd Thursday in September?
Franklin Delano Roosevelt listened to the pleas of retailers in the economically fatigued 1939 to move the holiday back a week in the hopes that it would spur more sales during the holiday season. This caused confusion with state and school calendars and our national day of Thanksgiving started fragmenting. Eventually Congress voted to standardize it back to the 4th Thursday in November.
Fun facts about the first Thanksgiving dinner
5. How many Pilgrims and Indians were at the first Thanksgiving Dinner?
There were approximately 53 Pilgrims and 90 Wampanoag Indians at the first Thanksgiving feast.
6. What was served at the first Thanksgiving dinner?
Turkey, fruits and vegetables, fish and shellfish, potatoes, and pumpkin pie could be found at the first Thanksgiving dinner table in 1621.
Kids and Thanksgiving
7. Are your kids complaining about helping with the Thanksgiving meal?
Show them this story about a child who was put in charge of the all important side dishes. It includes an emergency peanut butter/apple sauce pie recipe you just can't…eat. But creativity counts, right?!
8. What is the largest pumpkin pie ever baked?
Try shoving this in your oven…according to the Guinness Book of World Records, the largest pumpkin pie ever baked weighed 2,020 pounds and measured just over 12 feet long. This culinary feat was accomplished in Ohio in 2005. The recipe included 900 pounds of pumpkin, 62 gallons of evaporated milk, 155 dozen eggs, 300 pounds of sugar, 3.5 pounds of salt, 7 pounds of cinnamon, 2 pounds of pumpkin spice and 250 pounds of crust.
9. Gratitude for each guest at the table
Here is a fun Thanksgiving project for kids to make cornucopia place cards that include "gratitude comments" about each guest.
Actually this might be a fun project for an all adult dinner, minus the scissors and paste. But depending on family dynamics and the emotional availability of your guests, everyone might have to first dive deep into the Riesling or Pinot Noir. Just saying….
Wine, Gravy, and Thanksgivingkka
10. Speaking of wine, whether you are the host or a guest bringing a gift, choose a perfect pairing for the Thanksgiving feast.
It's a matter of personal preference but sparkling wines, Rose, Pinot Noir, Syrah, Zinfandel, Rieslings, and Sauvignon Blanc are good choices to pair with a traditional Thanksgiving meal. The best tip is to make friends with the wine store owner or manager and ask for specific recommendations!
11. What is Thanksgivingkka?
The first day of Hanukkah falls on Thanksgiving this year. That hasn't happened for 125 years. So if you are hosting this dual celebration that has been dubbed "Thanksgivingkka" then what wines can you serve that work with latkes and stuffing? Check out these 10 suggestions on winespectator.com.
12. How do you make lump free gravy?
Borrow this tip to make reliably fabulous gravy from Food Network Chef (and Marietta, GA resident) Alton Brown.
13. Best back-up strategy for lump-free gravy:
Buy a couple of jars…just in case and freshen them up with a splash of wine and fresh herbs. Or you can also order a few containers of "emergency" gravy from your favorite restaurant.
14. What are the predictions for holiday retail sales?
According to the National Retail Foundation (NRF), 2013 holiday sales are expected to rise nearly 4 percent to over 602 billion dollars. This is a slightly higher gain than an average of the past 10 years. But a study by Accenture is more optimistic, reporting that a survey of U.S. consumers, shows that they intend to spend an average of $646 on gifts this holiday season, which would represent an 11 percent increase over the $582 they planned to spend, on average, in 2012.
Finally, Thanksgiving is all about MORE. So we are adding a bonus clip. If you have ever cooked a turkey yourself, you will enjoy this immensely.
From the entire Marsden team, we wish you a very happy Thanksgiving!
Never miss another blog post again, sign up for our blog today!