The struggle between CIOs and CMOs to control and define the spend on digital tools and platforms has been documented in painful detail this year. Neither side has emerged unscathed and a recent study by Accenture reinforces the "disconnect." But with just weeks left in 2013, it would be inspiring to see a story about a company where there are no "sides." A company where the CIO and CMO have figured out how to collaborate to serve common goals – these are the stories that can provide a roadmap to a more productive relationship between IT and Marketing.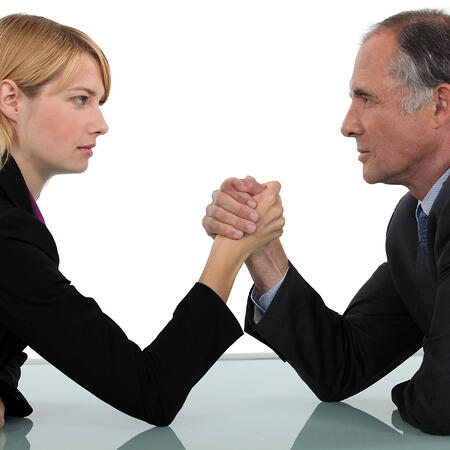 An example of a productive CMO/CIO collaboration can be found in a recent article in Forbes where the CIO and CMO of Dell were quoted on how they first teamed up philosophically before figuring out a process to get better business outcomes.
"Andi and I have strong partnership because we are working toward the

same goal—getting closer to the customer by using data to draw insights into

our customers and make decisions accordingly." Dell senior vice

president/CMO Karen Quintos
"IT can no longer work at the speed of our internal processes; we need to

work at the speed of the customer! Similarly, marketing leaders need to be

versed in technology and the opportunities it brings." Dell vice

president/CIO Andriana (Andi) Karaboutis
In another article about Quintos and Karboutis on a Dell supported publication, Karboutis talked about shared responsibility for the customer experience. "We're realizing at the company that it's not just about a sale experience or a service experience. It's really an end-to-end consumer experience and life experience with Dell," said Karaboutis.
Quintos and Karaboutis say they foster an environment of practicality on the marketing side by talking about scale and integration early in the idea stage. And on the flip side, IT is no longer a culture of "You can't do that" when presented with new technology requests. Security is an issue that can sometimes divide IT and Marketing, but Karaboutis and Quintos say they take joint responsibility by working together to create policies that secure customer data.
Hopefully, 2014 will bring us more stories of productive IT/Marketing relationships, but for now, it's back to the disconnect theme in the study by Accenture, referenced earlier. According the Accenture survey of 400 senior marketing executives and 250 senior IT executives across 10 countries, widespread happy collaboration between the CMO and CIO still has a ways to go. You can see the whole study here. But one thing that jumped out to me had to do with how CMOs and CIOs in the study put value on the relationship.
CMOs rank CIOs as the 2nd most important C-suite relationship, behind the Chief Sales Officer (CSO).

CIOs rank CMOs as the 4th most important relationship, with the CFO ranked on top.
Interestingly, CMOs rank CFOs as the 4th most important C-Suite relationship. It's surprising when you consider that demonstrating ROI on digital spend is a pain point for CMOs. It's also surprising that the CIO is not more concerned with the CMO relationship when you see studies from Gartner predicting CMOs controlling more of the IT spend than CIOs by 2017.
So what is the path forward for the CIO and the CMO? Based on the survey responses, the Accenture study identifies 5 behaviors that would lead to a more productive relationship.
Identify the CMO as the chief experience officer (CXO).

Accept IT as a strategic partner with marketing, not just as a platform provider.

Agree on key business levers for marketing and IT alignment, such as access to customer data vs. privacy and security.

Change the skill mix to ensure that both organizations are more marketing- and tech-savvy.

Develop trust by doing just that—trusting.
Number 5 on the Accenture list may prove the most challenging. It will take a series of actions on the part of both the CIO and the CMO that demonstrates a willingness to put "pet" projects second to collaborative work that best serves overall business goals. An article on CMO.com has additional analysis of the Accenture study and perfectly frames the biggest danger of the CIO/CMO disconnect:
It's every organization's worst nightmare: just as digitally-connected consumers expect a seamless service experience across all platforms, a cold war breaks out between the two departments charged with delivering it – marketing and IT.
As 2013 comes to a close, let's hope the new studies conducted at year-end show that progress has been made in these past 12 months in the CMO/CIO relationship. It's an alliance that shows no signs of diminishing in importance because technology is now irrevocably integrated into marketing.

Do you have any great collaborative stories to share? We'd love to hear about them.

Be part of our Perceptions conversation.