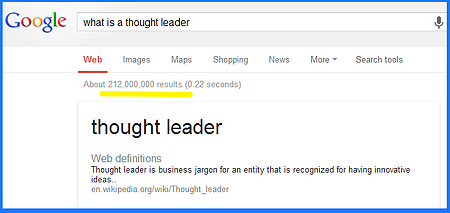 What is a thought leader?
In the B2B inbound marketing realm, we hear the phrase tossed around almost daily. Everyone with a laptop and a marketing degree positions themselves as a thought-leader.
We've sifted through the noise to present you with 9 people who have brought both uniqueness and effectiveness in the areas of content creation, social media marketing, SEO, and all other aspects of inbound marketing. Why 9? Because the expression to the nines means to the highest degree. Someone dressed "to the nines" is dressed up as much as they can be.
As men and women who have come to define true thought-leadership, they change the way we see ourselves, our lives, and our work. Here is our list.
Rand Fishkin @randfish
As founder and CEO of Moz (formerly SEO Moz), Rand is almost universally acknowledged as the reigning king of all things SEO. He also has the mentality of a teacher, which comes through out in his many blog posts and Whiteboard Friday videos, which serve as a treasure trove of educational content.
Dan Zarella @danzarrella
Described as a social media scientist, he may be the only Guinness World Record-holder we've ever featured on our blog. Dan separates himself by getting to the why behind every action he recommends. The advice he gives is supported by the large data sample that he pulls from the Hubspot customer base. With this, he is able to confidently recommend the ideal times, ways, and frequency with which to craft social media posts for maximum effectiveness.
Jay Baer @unmarketing
For nearly two decades, Jay has been one of the most imposing figures in the world of digital marketing, as evidenced by the fact that his blog has been rated as the #1 content marketing blog in the world. He is a big proponent of making yourself a useful resource, as opposed to a hype-machine. Here's a single quote that sums up Jay's entire message: "Sell something, and you make a customer. Help someone, and you make a customer for life."
David Meerman Scott @dmscott
A thought leader in every sense of the word, David Meerman Scott's influence is truly worldwide. Known just as well for his speaking career, David has authored 8 books including the curiously-titled Marketing Lessons from the Grateful Dead. Follow him for wonderful advice and tested best-practices in marketing strategy.
Jeff Bullas @jeffbullas
Jeff is an asset to anyone in the inbound marketing realm and an absolute content creating machine. He tweets on average every 10-15 minutes on the newest and best tactics to increase the ROI on your marketing time-investment. Jeff is an excellent resource for anyone looking to increase their knowledge and improve their trade.
Kimberly Reynolds @QRKim
Kim has mastered the art of engagement through social media. Ever thoughtful of her followers, she does a great job of answering questions directed her way, as well as remembering to interact with those who are absorbing her content. Always looking to stay ahead of the marketing technology curve, Kim regularly contributes to Steamfeed and Social Media Examiner about the best tools and tips for building your following on social media.
Michael A. Stelzner @Mike_Stelzner
The creator of Social Media Examiner, Michael is one of the hardest workers in the business. His blog is a must-read for anyone looking to gain a competitive edge in a highly crowded marketplace. He is on the forefront of the newest and most cutting-edge marketing techniques.
Daniel Pink @DanielPink
Dan has spent his career challenging long-standing conventional wisdom in order to find a better way to live and work. In fact, his best-selling book A Whole New Mind is the book that inspired me to embrace my right-brained personality and pursue a career in marketing. I'm certainly not the only one affected by Dan's work. His books have been read by millions and have been translated into 34 languages. And, he was named one of the 50 most influential business minds in the world by Thinkers50, making him, by definition, a true thought leader.
Seth Godin @ThisIsSethsBlog
Perhaps more than anyone on this list, Seth Godin hardly needs an introduction. He has been setting himself apart from the crowd for years. Author of more books than one could carry home from the library, Seth has committed himself to writing high quality content on a consistent basis. He stays away from social media and other popular forms of marketing and focuses solely on writing for his daily blog. Before you consider opting out of Twitter and Google + yourself, you should know that Seth does blog every single day, and his blogs get shared on social media, he just doesn't do it himself.
Now comes the difficult part, copying the careers and practices of these men and women will only get you so far. It is up to you to define your own path and to set yourself apart from the rest of the pack. Good luck and successful marketing.
For more info on how to get started with your own inbound marketing plan, be sure to sign up for our blog.
Connect with Reade Milner on Google Plus.