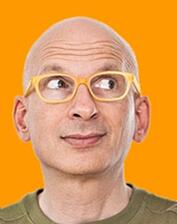 I love Seth Godin. So do millions of artists, writers, marketers and business folk. What's not to love? He's a brilliant, quirky, positive force for creating things that matter (books, art, products, ideas) and building tribes that support and encourage.
Seth Godin writes a blog. Every day. Come hell or high water. Some of Seth's blogs are a few lines long. Many are quite lengthy. Some are brilliant, some repetitive. He'll tell you it's a discipline. That committing to doing something everyday changes your approach to it. And that doing it everyday forces you to get better at it in a way that just practice doesn't. When everyone can see your best and worst, you stop being as afraid and start focusing on doing your best. As Seth says "Just Launch". Launch whatever IT is for you.
I look forward to Seth's blogs because more of them than not are either interesting, inspiring or a quick kick in the pants. And I also look forward to them every day because they remind me to step out my comfort zone, and Just Launch.
Today's thought was on the "The curse of frequency". As usual, it hit a nerve.
If you haven't signed up for his daily dose, you should. Here's a link.