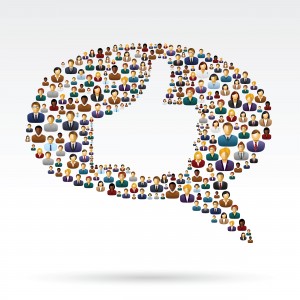 So you managed to see the importance of engaging your audience through an online community. Check!
You signed up for one, two, maybe three relevant social networks. Check!
And now, it's time to see who's talking. Well, I hate to break it to you, but it's a little more than just talking. In fact, it's a lot more than talking. It's so big, there's a system that measures not only if you're talking, but how often you're talking, who's listening and what the heck you're talking about!
This measurement is called a Klout Score. This score (between 0-100 points) represents the aggregation of multiple pieces of data about your social media activity. The score incorporates over 400 variables from 7 different networks and the data is updated on a daily basis. Click here to see what Klout measures on each network.
One key concept to understand about the Klout Score is that your influence is based on your ability to drive action. It's not just about talking. It's about what you're talking about to encourage engagement. If you're audience loves cats, but hates dogs, you wouldn't post Tweets about how great dogs are, would you? And you certainly wouldn't expect your audience to Retweet, or Follow you for that matter, if all you talk about are dogs. It's the same principle as remembering what interests your audience as you prepare a presentation.
(Friendly reminder: When using social media for business, the focus is redirected to your audience and what they want to see. Don't forget: Customer is King and here's a blog post that talks about that.)
Keep in mind, this is something you're not going to nail every time and it's going to take time to see results, but the key is to pay attention. The more you engage, the more you learn what works, the better your interactions. The better your interactions, the higher your Klout Score. Inbound Marketing pioneer, HubSpot (@HubSpot) and industry analyst Forrester (@Forrester) both have Klout Scores of 84. Interestingly enough, the average score is 20.
Here's a real-world example:
I started tweeting for Marsden & Associates and noticed that my first Retweet was a post about Google. The next day, I tweeted about Google, and wouldn't you know it, that post received multiple Retweets again. What did that tell me? Google is GOLD and Marketers like to read and share posts about it. Now, I try to incorporate Google in my tweets (if appropriate) and ultimately our Klout Score has increased significantly because of it.
So what are you thinking: Oh great, here's another thing I have to learn and most likely track with social media. I thought the same thing, but let's look at the big picture: why do companies use social media? To engage their audiences through a two-way channel in an effort to increase exposure, gain relevance and trust in your industry, create more leads and eventually add more customers to your roster, right? Klout Score helps you monitor that. It shows you how well your interactions are influencing your community, in order to get closer to your goal.
Click here to visit the Klout website and get further details about your score and what it means. There's also a free app for the iPhone available for easy access on-the-go (it's also a great way to easily compare the scores of you and your competitors). And for more information on Klout and what trends marketers use to influence their score, check out this video. It's a little lengthy (about 6 minutes), but it's worth it!