Every B2B company needs a strong digital Inbound Marketing program as the foundation for their lead generation. It takes time and consistent effort, but without it, your website is nothing but an on-line brochure that no-one will read because they don't know it's there. Inbound Marketing is the sum of several parts created to help your target market:
Find you on-line (combining SEO, keyword, link building, and social media participation)

Connect with you on-line (driving people to your website where they find compelling content)

Convert (fill out a Call-to-Action on a landing page so you now have their contact information and permission to communicate with them on an on-going basis)

Engage (continue to visit your site, download additional content and offers, comment and respond to blog and Twitter posts, and in so doing, demonstrate their "Sales Readiness" )

Buy. That's the real goal.
Marketing Automation as a platform for Inbound Marketing
To effectively manage - and measure - your Inbound Marketing, you need to use a marketing automation platform that integrates with your website Content Management System (Wordpress, Joomla, Dot-Net-Nuke, Drupal, etc). For our small and mid-sized clients we recommend, and currently manage, via HubSpot, Pardot, and Sales Fusion. Each platform has its own advantages, but the tools of any dedicated system are essential for an effective Inbound Marketing program. If you'd like to learn more - please read our E-guide.
Content Creation and Social Media
Along with Inbound Marketing comes both the need for content creation and social media engagement. We highly recommend (and help our clients manage) a 3 pronged social media plan that includes a blog, LinkedIn and Twitter to find and connect with prospects and continue the conversation with current clients. (In our experience, Facebook has not proven to be a good investment for strictly B2B clients, but it does have markets where it can definitely contribute.)
Engage throughout the Inbound Marketing Funnel*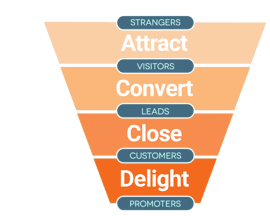 We also create content assets that serve as Calls-to-Action for each stage of the marketing funnel:
Top of the Funnel. These are the information seekers and we get them to convert with:

White Papers

Checklists

How To Guides

Videos

Middle of the Funnel. These are comparison shoppers. They are looking for more specific information:

Product Guides

Comparisons

Analyst Reports

Case Studies

Testimonials

Bottom of the Funnel. These folks are ready to buy - from someone. This is where offers come in:

Demos

Coupons

Free Trials
And beyond Inbound Marketing, we work with clients to create and manage a range of lead generation programs including:
Webinars

Events

Pay Per Click campaigns

Banner Ads and Info Drops

Video-based email campaigns
This just touches on the options.
Talk to us about crafting a winning digital Inbound Marketing program for you.
Our team has launched thousands of programs combining traditional and on-line advertising, Inbound Marketing, social media, direct email, webinars, trade shows, seminars and more... and delivered real quantifiable results.
Do you know if you're Inbound Marketing Program is working?
Here's an easy to read, interactive PDF full of useful facts, figures, links and specific instructions to start up - or tune up - your inbound marketing program.
Get your free copy of the The 10 Step Program for Inbound Marketing here.
*Thanks to HubSpot for providing the great graphic of the Inbound Marketing Funnel. Marsden & Associates is an Atlanta-based, Marketing and Lead Generation Agency, and a HubSpot partner.