Drum roll, please…..
I'd like to introduce you to a new voice on Perceptions. Please welcome Erica Williams. Erica has joined Marsden & Associates to bring her talent, wit and marketing passion to our clients' marketing communications needs. From time to time, she'll share her views and suggestions here. We hope you'll enjoy and add your thoughts to our conversations.
Anne Marsden
When E-mail Sucks
Are you unintentionally sending out e-mail that sucks?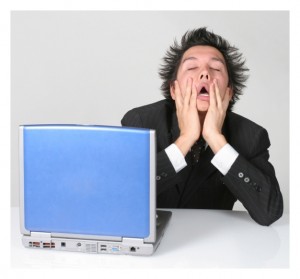 I live with a BlackBerry and receive about 150 e-mails a day, every day. If a few minutes go by without an alert, I reboot, figuring there's a 'system' problem somewhere. And I do read most of them… except the ones that suck. More on that shortly.
In my first job out of college, I was a marketing assistant for a global medical products company. One of my key duties was to create and implement e-mail campaigns. My first attempt was lackluster, but after falling and picking myself up a few times, I learned what wasn't working and why:
1. Make the subject line compelling. If all I see is a one-line display on my mobile device, it better speak to me – not you, not your product - me. Think about it, craft it, and make it six words or less.
2. Don't bury the key message at the bottom. Don't frontload your note with background, especially if you expect me to take action on something. If it's that involved, add an attachment and give me a 'heads-up' in the subject line.
3. Keep it short. We've all got too much electronic information to sift through. If it's longer than a few sentences, call me… and keep the voice mail short, too.
4. Mail early in the day. This is one thing those of us of a certain age have learned from snail mail. Let's see a show of hands: Who doesn't check e-mail first thing in the morning, even before coffee? Right out of bed, I'm used to scanning for the 'real' mail and quickly dumping the trash. Email campaigns and/or email blasts will have a greater chance of surviving the delete button if you send them between the hours of 4-6am.
5.Cut out the fancy fonts. Some of your recipients may not have fancy fonts available on their viewing device. Stick to what works. Try classics like Times New Roman, Franklin Gothic or Arial LET'S ALL DO BETTER. There's enough sludge in the info pipeline, so let's do our best to not add to it. Fit your communication to the medium. Twitter's done this best with its 140-character limit. Why not set one for e-mail? I like 100 words. That's about 500 characters, 7 sentences, or two paragraphs.
What do you think makes a good – or suck-y - email??