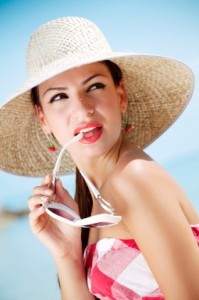 My friend Erin loves hats. She wears them often and she looks absolutely fabulous in them.
Recently, another friend and I were meeting Erin for brunch at a little French bakery/restaurant. Neither of us had been there, but as it happened, Erin had arrived at the restaurant before we did. As we got close we saw a woman sitting on the restaurant's porch wearing a floppy-brimmed hat. Even before we were close enough to see the name of the restaurant or her face, we knew we'd found it – and Erin. The hat did it.
What does this have to do with your business? Actually, quite a bit.
A strong branding strategy well-executed can do for your business what floppy-brimmed hats do for Erin: make you instantly recognizable, express your personal style and set you apart from the crowd.
Step back for a minute and take a look at how you present your business to your prospects and customers. Do all of your communications mediums – building signage, ads, Web presence, e-mails, newsletters, product sheets, letterhead, promotional items, trade show booth, truck signage or whatever you use to let people know about your business -- look like they came from the same company? Are they all different? Or do they fall somewhere in between?
It's tempting to try to make everything you do new and different from what you did last week or last year. However, that can work against you when it comes to building a strong brand.
Consistency is at the heart of brand recognition. Remember, while you see your brand day after day, the people you are trying to reach don't. In fact, it takes seeing it several times for a brand and image to begin to register with a prospect. When it comes to establishing and maintaining the integrity of your brand, some things simply need to stay the same: Your logo, its placement on a printed document, your spec sheet template, the banner on your website, your "boilerplate" on press materials, among others.
Think about the brands you recognize on sight: Coca Cola, McDonald's, The Travelers Insurance, Apple, Nike come to my mind. What do they have in common? Every one of these brands has a logo that they use everywhere – and whatever else they do, that logo stays the same.
So, where's your hat? And how does it look on you?
Every business needs a "hat" of its own…an identity unique and recognizable. And just as doing what your company does takes specialized knowledge, so, too, does establishing and maintaining your brand. This is an area where hiring experts like Marsden & Associates to review your branding and help develop consistency where it counts can pay dividends. Give us a call or drop us a line. We'd love to help you find the perfect hat.