a post by Ann Strople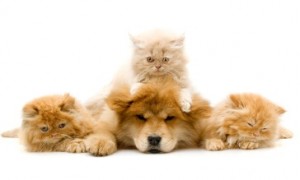 A few weeks ago I bought a couple of cans of 9-Lives cat food at my local supermarket. At the checkout, the automatic coupon machine delivered a coupon for a dollar off six cans of Friskies, a competitor's brand. The next time, I purchased the Friskies and used the $1 off coupon. That purchase netted me a coupon for 75₵ off — but only if I purchased 12 more cans. What this said to me was that Nestle Purina, Friskies' parent company, was willing to invest more to acquire a new customer than to cement a relationship with an existing customer.
This little grocery store coupon experience got me thinking about customer acquisition versus customer retention in general. Whether you're a B2B services firm or a consumer packaged goods business, you probably spend most of your sales resources, human and financial, on acquiring new customers. But what about the customers you already have? Are you doing all you can to ensure that they don't abandon you for your competition?
There's plenty of evidence to suggest that enriching your relationship with existing customers is good for business. According to Frederick F. Reichheld, author of The Loyalty Effect: The Hidden Force Behind Growth, Profits and Lasting Value:
It costs five to seven times more to acquire a new customer than to keep an existing one.
Over a five year period customer attrition rates can reach as high as 50% if [customer] databases are left dormant.
Businesses that boosted customer retention rates by as little as 5% saw increases in profits from 5% to as much as 100%.
Authors Emmet C. Murphy and Mark A. Murphy made similar observations in their book, Leading on the Edge of Chaos, adding that:
A 2% increase in customer retention has the same effect as decreasing costs by 10%.
Customer profitability tends to increase over the life of a retained customer.
This is not to say you don't need to acquire new customers. Just don't forget to protect your relationship with your existing customers while you do. Ongoing
communications with existing customers
can contribute significantly to protecting your customer base and building your relationship with them. While you may not be able to speak directly to every customer on a regular basis, you can reach them in other ways:
Reward loyalty with special offers in statements, email, postal mail, text messages and customer-only sections of your website.
Create social media programs that target, engage and reward loyal customers.
Send your customers a monthly email newsletter that contains information that is relevant to them and to the products or services you provide.
Leverage trade shows and professional meetings to meet with, learn from, and show appreciation for your current customers.
Make it easy for your existing customers to do business with you by providing streamlined processes for placing orders, asking questions and getting issues resolved.
Take a moment and ask yourself - are you spending all your sales efforts on getting new customers? If so, you're ignoring a potential goldmine of new sales, and even perhaps jeopardizing current revenues. Do you measure and reward internally for customer renewals and up-sells? Do you analyze buying patterns to identify opportunities to bundle services? What about segmentation and analysis of your customer base to enable personally relevant promotions? Do you proactively consider how to turn anonymous buyers into loyal fans? If you're not sure where to start - listen to your customers! A well-designed survey can yield valuable insights into your customers' needs and preferences. And that knowledge can in turn help you target the right communications, offers and incentives to your most receptive audience.
So if it's time to start loving the one(s) you're with, but you don't know where to begin, or which investments will have the best payoff, give us a call. Marsden and Associates has helped companies just like yours build and execute cost-effective marketing and communications programs that create a win-win for you and your customers.