Introduction by Anne Marsden: I'm thrilled to announce another great addition to Marsden & Associates: Suzanne Moore. Suzanne is our newest Principal and brings an impressive wealth of marketing accomplishments with a heavy dose of Sports Marketing and Sales Transformation. Check out her background here, enjoy her first blog (posted below) and give us a call if you would like to talk to Suzanne and learn more.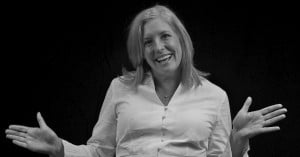 First impressions come once. They will either open doors or close them. So how do you transform your sales organization into a team that keeps doors open by bringing credibility and intelligence to their engagements? A team that thinks like business people and applies business acumen.
Start by throwing away the PowerPoint and brochures. Do yourself a favor, skip the presentation and listen, talk, communicate. A presentation is like a lecture. A typical presentation rarely devotes much focus on the customer and their current situation. Most of the focus, I dare say 90% of it, will be describing your company, your solutions and your products.
It's too easy to start talking about your products and not get the information that will allow you to solve your customer's business problem. Some customers may not make the leap to understanding how your products apply to their situation and whether they should buy them.
When you take your car into the shop, the mechanic doesn't hand you a brochure. Nor does he go through a presentation lauding his credentials, products and solutions. He talks to you. Asks probing questions about any problems you've noticed. Listens to your answers. Takes your car back for diagnostic testing and then presents a solution.
Transformation starts when relevant solutions are presented that solve real problems.
So, here are 3 things to do, if you want to begin your sales transformation and be invited back to the customer's table:
Leave the brochures at home. Listen and talk to your customers. Arm your sales reps with target questions; ones that will help them start the dialogue. Ones that focus on known challenges in their business process and directly relate to cash flow.
Marketing should provide reps with data including industry information, regulatory challenges and key business processes that have the greatest effect on corporate operations and profitability.
Reps have duties too and should always go to a prospect's website, read their annual report, look at the 10K and check press releases.
Trust me, if you go to a meeting prepared to initiate conversation, you'll make a great first impression and pave the way to your sales transformation.
So, what's your first impression of me?