Is your brand communicating with a tagline or just making noise?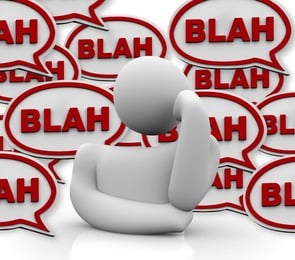 Ah, taglines - what a wonderful subject of debate. Are they useful? Do they really help build brand recognition? Can they actually create connection between your brand and your market? Are they just for brands that can spend a gazillion dollars on advertising?
Well, the answer to each of these is the same - it depends.
Of course we all have our favorite taglines, and most of them are iconic B2C examples.
According to a 2010 Forbes article and as rated by a group of 10 CMO's and advertising experts, here are the 10 best -loved taglines of our time. (I've included the year each one was introduced but intentionally left off the company names - if you don't recognize a brand behind a tagline, shoot me a note and I'll tell you):
The Ultimate Driving Machine (1971)
Just Do It (1988)
Don't Leave Home Without It (1975)
We Try Harder - (1963)
Got (fill in the blank)? (1993)
There Are Some Things Money Can't Buy. For Everything Else, There's (fill in the blank) (1997)
Think Different (1997)
The Few, The Proud, The (fill in the blank) (1976)
You Deserve A Break Today (1971)
A Diamond is Forever (1944)
So what makes a great tagline? And beyond that - when can a tagline make a difference to your brand when you don't have tons of money to spend on advertising?
Here are the 3 essential components of taglines that will work for your brand -- even without the big ad budget:
Reinforce WHAT you do. If you have a company name that says what business you're in - you're lucky. Most company names don't have anything to do with the actual products or services provided. So your tagline is your first opportunity to communicate to the world what business you're in. Here's an example: Kinetix is in the business of Recruitment Process Outsourcing. Their name doesn't tell you that, but their tagline does: We Can Hire Great People Faster Than You

.

Define something about your brand that sets you apart.

Not only should your tagline help communicate the what, it should also tell the WHY - why should a prospect consider you for that type of product or service? The why should highlight your key strength and competitive differentiation. In the case of Kinetix - it highlights two of their core strengths - speed and quality - and then pits them against their greatest perceived competitor - the prospect's internal HR organization.

Create an emotional reaction.

If your tagline is going to stick - if it is going to help cement your brand in a prospect's mind - then it needs to connect emotionally. Again, looking at Kinetix, they create an emotional connection that also communicates their brand style and voice - young, confident, and a tad sassy. When you read

We Can Hire Great People Faster Than You

, don't you just feel like you're being challenged? A challenge is personal - and therefore bound to cause an emotional reaction - to either argue or go find out what makes them think they're better than you. In any case, it's personal. And when it's personal, it's going to stick with you far longer than some generalized "aren't we great" statement.
Using a challenge as your tagline is one of many ways to create an emotional response. Make it funny. Make it warm and caring. Make it provocative. Make it sound like your brand, what ever that is. Think about your brand - its persona and its voice. Does it have a specific voice? If not, then start there and build your tagline to reflect and support how you want to be perceived in your marketplace. And do it in a way that involves, engages, or otherwise emotionally connects your brand to your target audience.
Go ahead - you can do it - can't you? Of course you can!
But before you go off and launch a new campaign around your great, new, compelling tagline - be sure to check that you haven't violated these two rules:
Don't Talk Down. You want an emotional reaction, but you don't want to alienate your prospects. Being flippant, condescending or rude will get you noticed, but unless you're a shock-jock, it won't help your brand.
Don't Self-Anoint. You may think you're the greatest in your industry. Your customers may have told you you're the best, but unless a credible 3rd party has bestowed a title on you, be careful. Take a look at the #1 tagline in the list above: The Ultimate Driving Machine. BMW didn't declare that they were the best car in the world, they defined what class of car they build, they carved out the niche at which they excel, and made it visceral.
Taglines can make a real difference, providing memorable shorthand for a brand, but they aren't easy. As Pascal once wrote, "I would have written you a short letter, but I didn't have the time". Seems like it would be a breeze to come up with a 3-5-word phrase for a brand; it's actually really hard. But get it right and you'll reap the benefits for years to come.
Stay thirsty my friends....