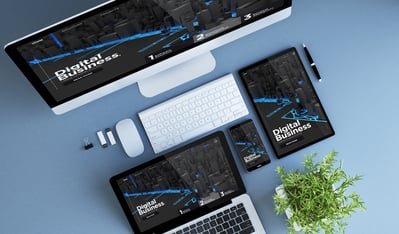 2021 will be the true beginning of branching out and experimentation in B2B web design. While 2020 has shown us the potential, 2021 will usher in a new era in web design trends. In the decade ahead of us, we'll be seeing new technologies and trendsetters driven by customer demands taking our businesses and how we present them in directions we haven't seen before.
What changes can we expect to see? How will the user experience evolve? Which trends will stand the test of time and which will be left behind? Here's our list of the five B2B website design trends to look for during the coming pivotal year.
Great Color
Most B2B brands online have good color. They feature palettes of brand colors that are harmonious and sometimes even evocative. This does the job, but the use of color in web design will continue to get richer and deeper, incorporating different shades, exciting harmonies, and subtle effects designed to attract the eye. This strategy developed in online B2B advertising where beautiful, colorful ads make powerful statements.
B2B companies will start using the same strategy to bring their websites to life. When done right, rich color invites the user to stay, explore, and trust a brand. While we are also seeing more color minimalism in web design, for brands that choose to embrace more color, now is the time to use it to bring your organization to life for viewers.
Check out the vibrant greens used by Bright Scout that pull you in.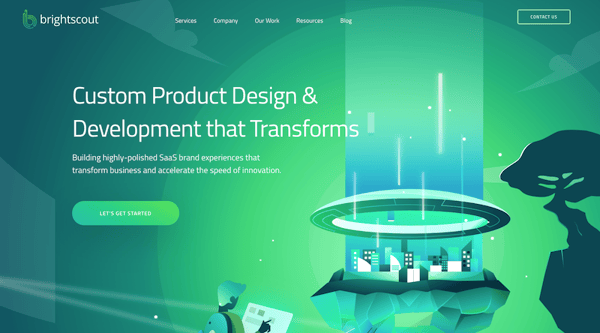 Powerful Statements Through Design
Making a powerful statement is about being bold and to the point. When we want to make a statement, we usually think in terms of copy design: "What should the words say?" If your organization has considered that, then also consider this question: "What should the design say?"
In the coming year, more B2B brands looking for new ways to stand out and earn business will be asking this question. One way to design powerfully is to use something commonplace in a new and unexpected way. For example, using a headline as the background for a module with icons sitting on top. When done well, evocative design elements such as this will stand out.
Blend Digital's backwards E is incredibly bold, standing tall behind the intro text.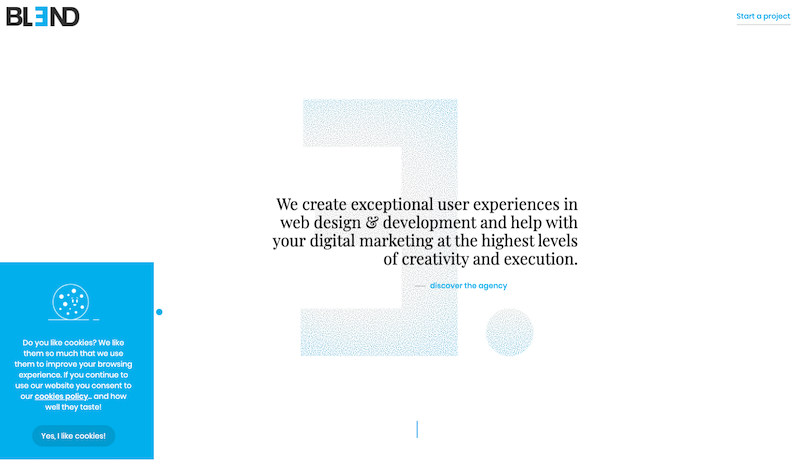 Experimental Layouts
2021 will be the year of experimentation. B2B brands have recently embraced the mobile "hamburger" menu even for desktop browsing experiences, and some companies have been toying with other interesting menus such as full-screen pop-ups.
Web audiences are ready to explore different ways of presenting common B2B site features like menus, banners, and even footers. For example, we may see pop-up footers, disappearing banners, or chat-based navigation systems. Experimentation will also be fueled by the growing use of new web browsing technologies like voice and VR.
Look how Ecwid has experimented with their banner area by making it interactive and using it to lead into the next section.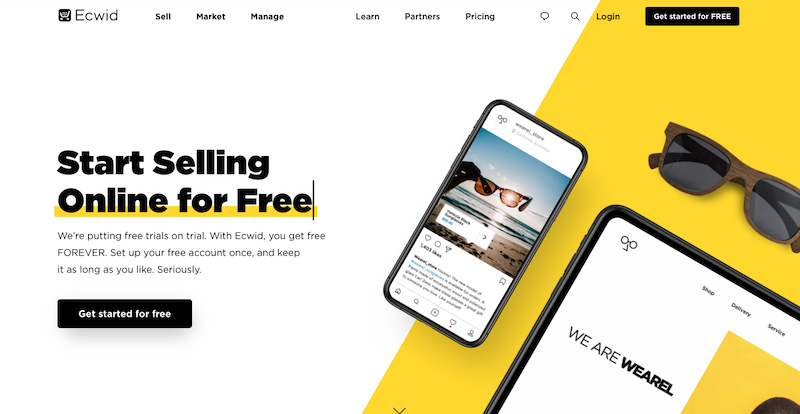 Graphically Minimal
Graphic-less web design will no longer be avant garde. It is truly a cool thing to be able to create an engaging user experience with mostly text. In the past few years, this kind of design was used almost solely by creatives to be edgy and novel.
However, this design strategy is becoming more accessible and will become a 2021 staple for B2B brands that understand how to use animations and interactions. While this design strategy isn't for every brand, it's perfect for brands that don't want anything to get in the way of their message.
You can't help but want to read and learn more about Millenium5 once you get a glimpse of their typography-based design.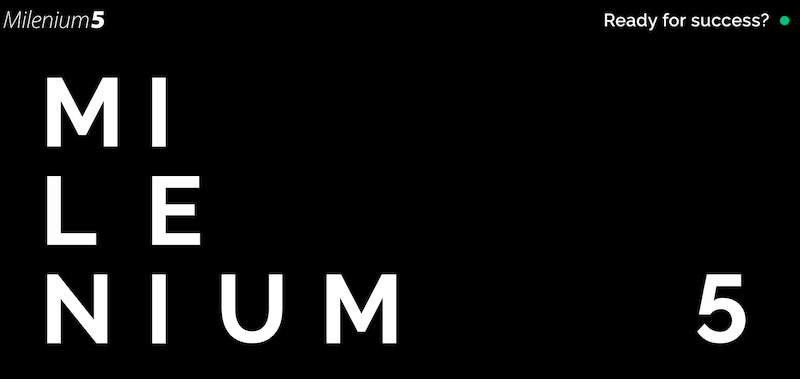 Flash-y
With all of the experimentation going on, we are going to see a reemergence of sites in 2021 that remind us of the Flash trend in web design from the late 90s and early 2000s. Flash was an exciting new technology that broke us out of our web design boxes. Hence, designers and developers did a lot of experimentation.
This era is notorious for bad design and over the top "Flash-y-ness," because it became easier than ever to use animation, interactions, and cool effects. In 2021, similar experiences will be achieved through HTML, CSS, and JavaScript. The difference? The effects will be used in new and reimagined ways that add a hint of nostalgia without detracting from the brand's message.
As businesses continue striving to stand out from the crowd, they will find themselves at the start of the new Flash wave. However, businesses will alienate their audiences more and more by creating experiences that are different only for the sake of being different. Remember, it's good to experiment and build something new, but keep those innovations relevant to your brand. And always keep your audience at the forefront of your choices.
Want to learn more on how to bring your website up to date?
Check out our blog post on how to analyze your B2B website.