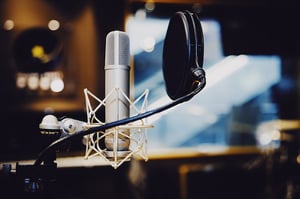 The process of starting a podcast seems extensive and it can be. But with the right equipment, it makes everything much easier and less frustrating. In part one of this two-part series, I discussed the process for planning, recording, editing, and distributing your podcast. In this post, I'll give you a list of my recommendations for getting started.
But before we get into it there are a few things you should know.
This equipment list is not going to have the top-of-the-line recommendation for each option. It's designed for B2B companies that want to get started and get into a rhythm of having a regular podcast while being able to edit and post using in-house resources. If you have the budget and the manpower to hire a full-time person just to manage the podcast, then this list is not for you. You should do some more detailed research and create an options list tailored to your company's needs.
There is a lot of great equipment out there, but I have found what I believe are some of the best options available for people starting out in the podcast world. Let's get started.
Microphone
Both of these microphones have USB connection plugs for your computer so that you don't have to buy a mixer or any other digital interface that would be required to use it.
Best bang for your buck: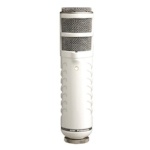 Rode Podcaster USB Dynamic Vocal Microphone ($229)
Designed specifically for podcasters in mind. It processes all of the analog-to-digital conversion internally, bypassing the computer's lower quality onboard sound controller altogether. It also features an internal pop filter to minimize plosives sounds that can distort the audio.
Best on a budget: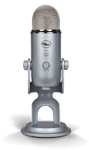 Blue Yeti USB Microphone ($129)
Claims to be the world's number one USB microphone and many reviewers tend to agree. It doesn't have the same internal conversion process as the Rode Podcaster, but they have their own proprietary internal technology that allows you to choose four different pattern settings for flexibility in recording vocals, music, and podcasts. It also comes in different colors.
Bonus option: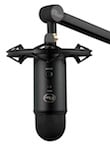 Blue Yeticaster ($199)
A brand new option that Blue Yeti has started offering is the Yeticaster designed specifically for podcasting. What I really like about this option is that it comes with a shock mount (isolates microphone from noise, shock, and vibrations) and a boom arm (an adjustable arm that connects to your desk to easily move the mic close to your mouth while sitting comfortably). Best bundle option I've seen by far.
Accessories for Microphone
The following accessories have so many similar products that there aren't many you can go wrong with. I just linked to a few on Amazon to get you an idea of what they are.

Pop Filter ($12 - $25)
A pop filter is designed to restrict plosives from distorting your recording. Plosives are speech sounds that create a burst of air like t, p, and b. Get one that has an adjustable clamp on it so that it can be used with any microphone.
Suspension Boom Arm ($30 - $80)

A boom arm is a spring-loaded metal adjustable arm that is attached to your desk by a clamp or screwed in. The microphone is attached to the end and it's easy to move around and adjust it to your height for ease and comfortability. Please don't buy one that is cheaper than $25. You get what you pay for.
Shock Mount ($15 - $25)

The mount linked here is specifically for the Yeti microphones, but you can find a shock mount for any microphone you buy. They are designed so that if you hit the table or adjust the boom arm, you can't hear the vibrations in the recording.
Headphones
You may have a pair of excellent headphones that already works. It's best to have headphones that go over the ear to block out other sounds. This helps you hear what's being recorded better.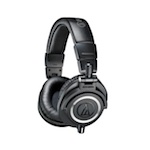 Best bang for your buck:
Audio-Technica ATH-M50x Pro Studio Monitor Headphones ($150)
Many audio engineers and pro audio reviewers praise this model for its performance and clarity. These are an excellent price point for the quality.
Best on a budget: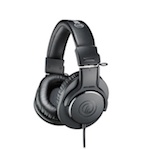 Audio-Technica ATH-M20x Professional Monitor Headphones ($50)
These headphones are arguably the top headphones in the $50 range. They have a great sound that is enhanced by the quality of construction and are comfortable. One weak point compared to the M50x: at louder volumes they start to distort more. But, that shouldn't be a problem if you are only using them for podcast monitoring.
Recording and Editing Software
Software for your computer will take some practice to master, but I've chosen the two best free options and links to good "getting started" guides for each. Lastly, I've included an online software that is incredibly easy and simple to use but has a monthly cost.
Mac Users:
Garage Band (Free)
The interface is simple to use, but can take a little time to get used to it. Here is a step-by-step tutorial that will help get you started faster: Starting a New Podcast Project in GarageBand.
Windows or Mac Users:
Audacity (Free)
Audacity is the most widely used free recording software for podcasters. Since it's open-sourced, it has a lot of extra plug-in options which help you do more things as you get comfortable with the software. Here is a great guide to get you started: The Complete Guide to Creating and Editing Podcasts with Audacity.
Online Software:
Alitu.com ($28/mo. Or $280/yr.)
The idea behind this software is that you would take your raw recording and upload it to the website. From here, the tool automatically cleans up your audio and enhances it, making it incredibly easy to trim and cut out mistakes.
The downside is that you can't upload multiple audio files to the same project, so you would have to record everything in one long take. I recommend this option if you have to do everything yourself and you don't have time to devote to editing. Otherwise, stick to one of the other editing options since you will already need one of them to record.
Recording Software for Calls
You may find that you need to record interviews over the phone. A great way to record these calls is by using Skype with one of these software programs to record it.
Mac Users:
eCamm Call Recorder for Skype ($39.95)
You can set it up to record automatically or use the record and stop buttons. It will record audio and video if you like.
Windows Users:
TalkHelper ($49.95)
This is the top-rated Skype recording software for Windows. It is easy to use with call recording and downloading automatically enabled. All you have to do make sure TalkHelper is running.
Online Option:
Zencastr (Free)
This uses its own software and doesn't require Skype. You simply sign up for an account and you send a personal link to your guest. The free version allows up to two guests and eight hours of recording per month (there is a three-hour maximum per session limit). After you finish, the file will automatically be delivered to your Dropbox account (Google Drive coming soon). Each audio file is also downloaded to the user's computer at the end of the recording if Zencastr is unable to connect to Dropbox.
Podcast Hosting Site
A hosting site allows you to embed your podcast into your company website without eating up your bandwidth when people stream it. Here are my two favorites that I mentioned earlier. I don't think you can go wrong with either decision, but I do think PodBean has a slight edge.
PodBean ($14/mo. or $108/yr.)
Unlimited uploads

Unlimited storage

Unmetered bandwidth

Can upgrade and host video podcasts
Buzzsprout (two package options but no annual options)
Upload three hours per month ($12/mo.)

Upload six hours per month ($18/mo.)

Unlimited Storage

250Gb bandwidth per month
Mobile Setup (Optional)
I wanted to include an optional mobile setup in case you travel a lot and need an option that allows you to record interviews on the road while maintaining good audio quality. All you need is a smartphone, two smart lavalier microphones (lapel mics), and an adapter to be able to plug both of them into your phone. Optionally, you can buy an app to optimize the recording. Here is a quick list with links below.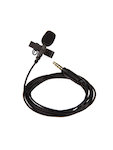 Rode smartLav+ Lavalier Microphones for iOS and some Android Phones ($79 each)
You'll need two of these so you can put one on your guest. They are obviously more compact than a desktop microphone and easier to travel with.
Rode Microphones SC6 Dual input and headphone output ($20)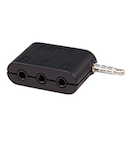 This allows you to plug both the lavalier microphones into your phone and it gives you a headphone out so that you can monitor the interview while you are recording. If you are using a later iPhone model that doesn't have a headphone jack, you can use the lighting to headphone dongle that came with your phone.
Ready, Set, Go
Now that you have a good overview to think through starting your own B2B podcast and what it takes to get started, go get started! If you made it this far, you're well on your way. Remember to have fun and don't be afraid to try out different options.
Feeling extra adventurous? Video is also heating up in B2B. Learn how to get started with video production in this post from our blog archive.