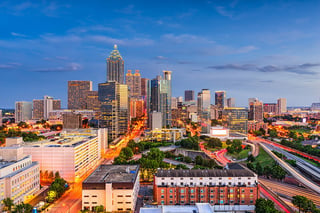 In many fields of work, continuing education is helpful, but in marketing and communications, it's essential. Technology, trends, and communication platforms change constantly. Keeping up with the latest best practices is easier in Atlanta with monthly events hosted by various associations – that is if you know where to find the events.

We made it easy with a list of the top August 2017 events we found for $50 or less for digital, inbound, and content marketing professionals. We hope to see you there!
August 8, Tuesday
General Assembly: Inside the Minds of Brilliant Designers
Cost: Free
Start Time: 6:30-8:30 p.m.
Description: To excel in design for emerging technology requires persistent dedication to learning and skill development. Attendees will get a backstage pass to the creative processes that go into award-winning agency work and R&D projects for new technology, as well as the path that brought Kat McCluskey, to her role today as senior art director.

What You'll Take Away: During this talk, attendees learn how to leverage design standards across new mediums and gain advice to grow their careers.
Get the basics on effective techniques to ideate and prototype for emerging technology
Find out how to find mentorship and educational opportunities throughout your career
Why It Matters: Technology is ever-evolving. Kat will share insights on staying at the top of your career in design for tech that changes the landscape of digital every few years.
August 10, Thursday
PRSA Georgia: Innovations in Media Training: 90 Minutes to Better Message Delivery
Cost: $35
Start Time: 9:30-11 a.m.
Description: Spokespeople – and the PR pros who coach them – must thoroughly prepare to appear confident and credible in news stories and segments. Behind the scenes, those of us in communications know that before you put executives in front of a camera or behind the podium with media or influencers, you must set an agenda and develop key messages to determine what to say and how to say it.

In 90 minutes, you'll learn strategies and techniques that enable a spokesperson to:
Become a more effective communicator
Take control of the interview process
Sell an offering or position
Garner better media placements
This program focuses on interview delivery and control techniques, do's and don'ts, ways to enhance speaker presence, and how to build relationships while managing the media.
August 10, Thursday
PRSA Georgia: The Pitch Tank Corporate Edition
Cost: $59
Start Time: 11:30 a.m. – 1:15 p.m.
Description: After last year's new format for PR pros to "live pitch" some of the city's leading journalists, we couldn't resist the sequel, and we've invited a wide array of press that means business. Join editors and reporters from The Atlanta Journal-Constitution, Atlanta Magazine, CBS Atlanta, and GPB to hear what stories they most desire and the best ways to reach them.

Then, intrepid practitioners from all walks of our profession will take turns pitching the next great story or segment, and you'll get the chance to submit your ideas to the panel too. You'll walk away with insights and ideas on how to better structure and deliver you next story angle in this highly interactive session!
August 24, Thursday
American Marketing Association: AJC Digital Series on Content that Converts
Cost: $25-30
Start Time: 7:30-9 a.m.
Description: With native advertising in a definite mature phase, there are more ways than ever to execute native campaigns on almost any platform you can think of. As a result, the spectrum of campaign types that people call "native" has never been broader.

But the secret to success in native advertising isn't to jump on the latest platform or content trend. Instead, it's to have a solid strategy and leverage the power of co-branding to get the client's message to the right audience in a credible way.

Join Atlanta Ballet CMO Tricia Ekholm and AJC native advertising lead Lance Helms for an inside look at publisher-driven native advertising, showing how native helped power the Ballet's campaign to introduce their new artistic director, Gennadi Nedvigin, to the Atlanta market.
August 24, Thursday
General Assembly: PR Reimagined
Cost: Free
Start Time: 7-9 p.m.
Description: While the foundation of PR remains the same, the way professionals use digital mediums to create a share of voice is constantly changing. PR Reimagined will bring together sought-after PR thought leaders from different industries to shed light on new and inventive practices that any PR professional can utilize in their PR own role.

Why It Matters: Traditional PR has become just that – traditional. While the world changes to be more untraditional every day, these common methods no longer prove effective. To be heard through the online noise, every brand needs to reimagine the way they do PR. Throughout the evening, you'll:
Learn how different industries are adapting and reimagining PR to meet their organization's needs – and most importantly, how you can do it too
Find new solutions and technologies to make your job easier and more effective
Gain real-life insights on how seasoned PR professionals had to adapt to this new PR landscape and reimagine the way they do business
Connect and engage with other PR professionals
Have a drink on us (and maybe some free swag)


Who wouldn't want to keep up with our blogs? It's a weekly thing.