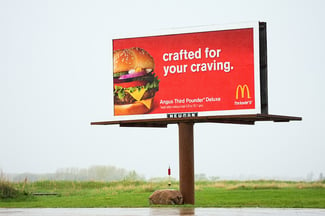 If you're not a Pay-Per-Click (PPC) guru, you might be asking yourself what is a branded keyword? It's a keyword that contains your company name or one of the products or services unique to your business. For example, Marsden Marketing would be one of our branded keywords. In a branded campaign, a company creates a paid search campaign that targets its branded keywords.
It might surprise you that companies would spend money bidding on words they organically rank for in a Google search query. But they have strategic reasons for doing so. Here's why bidding on branded keywords can be an effective strategy to integrate into your PPC efforts.
1. Retain the top position
Some brand names are more common than others, leading to an increase in competition for that coveted first position on Google search results. An easy solution to this problem is to start a branded campaign to move your company to the top position and bring more attention to your website. Also, even if you are in the third position, adding in a branded campaign will increase your real estate on the first page, giving your audience more opportunities to click on one of your placements.


2. Fight against the competition
In some cases, you might have noticed that your competitors' ads have started to appear above organic search results for your branded keywords. This is because they are bidding on your branded keywords to attract your customers or potential customers. It's a clever way to introduce a similar product or service to a similar target market. To win back the top placement, you should start bidding on your own branded terms to control how your company is perceived.


3. Dictate where your traffic goes
Making changes to your website can be a long and complicated process. If you want to try out a new
landing page
or drive traffic to another location on your site, setting up a branded campaign can be a great way to test it out. Also, if you have a new asset, event, product, or service, you can create a branded ad detailing the specifics around the release or event to further promote it.


4. Take control of your brand messaging
With organic search results, you only have so many options, and sometimes the first result that appears for your company might not be your first choice for what you want to show your potential customers (e.g. an asset, blog post, career page, about us page, etc.). On the other hand, with a paid search campaign, you get to craft your own message and design two headlines, the URL, and the description text to grab your audience's eye.


5. Improve your account's overall quality score
Not only are branded keywords inexpensive, they can also generate a high quality score for your campaign. This is due to the high relevancy of your branded terms to your ad, URL, landing page, and website. Not only will this campaign have a great score, it will also help offset some of your other campaigns that might have a lower quality score, such as competitor campaigns, and bring up the average of your overall account's quality score.

6. Save money (they're cheap!)
Branded keywords tend to be the cheapest keywords you can bid on for your own account. This is because there isn't a lot of competition and search results for these keywords. Also, your quality score is much higher, further reducing your costs.


7. Add features to attract customers
Unlike a traditional organic search result, you can add call outs, ad extensions, phone numbers, apps, reviews, and location extensions to your PPC campaigns. This is a great strategy to attract potential customers and make it easier for them to find what they're looking for on your website.

8. Generate leads, leads, and more leads
Improving conversion rates is a top priority for any paid search campaign. Paid traffic can convert better than organic traffic because you are driving potential customers to a dedicated landing page that contains a convertible action rather than to a homepage. Also, the person performing the search is already acquainted with your company and probably further along in the buying cycle, meaning they're more likely to convert than someone who has never heard of your company or service.


Are you convinced yet?
If you don't have any other paid search campaigns, this is a great one to start with. However, if you're still skeptical, try starting with a small budget to test it out for yourself. Experiment with different keywords, ad copy, and landing pages and measure the results to see if it makes sense for your target market.
PPC is one part of an effective inbound strategy. Learn how a SaaS company used PPC and inbound marketing to beat their lead generation goals by 51.3%