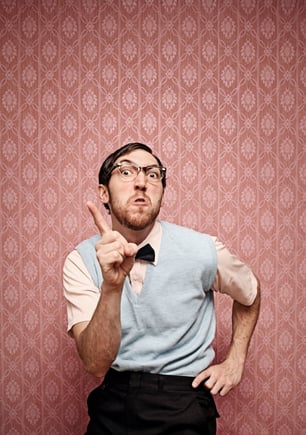 It's nice to know email marketing is alive and well. Oh, you didn't know? Well here's a fun fact: 69.7% of US Internet users say email is the preferred method of communicating with businesses (eMarketer).

So your consumers have spoken, and now it's a matter of getting to their Inbox. Seems simple, right? Write a subject line, say what you're offering, and wait for the leads to start rolling in and qualifying. Here's another fun fact: email marketing has evolved. There's so much more to consider now: words aren't just words anymore, an email address doesn't always equal permission to contact, and prospects don't have to sit back and let your emails pile up in their Inbox.

With this in mind, use this list below to remind yourself of the do's and don'ts of email marketing.

1. DON'T use spam trigger words in subject lines

Email marketing, like many other aspects of digital marketing, has been used and abused, making it hard for white hat marketers to do their best work and generate results. To fight back, email delivery systems look for keywords in the subject line. Here's a short list of top spam words to remember:


Free
Great offer
Apply Online
Act Now
Get
Win
Hello
Avoid
Here
Stop
2. DO have a mobile-friendly email template
How often do you check your email in traffic (be honest, we've done it too)? We're all guilty. In fact, 72% of online adults check their email on their smartphone (SalesForce). Before you begin your email marketing march to victory, invest in a responsive email template design. Nothing is more frustrating to email users than opening an email that renders enlarged or distorted. It's a distraction from the content you worked so hard at creating.
3. DON'T ignore unsubscribe and bounce rates
We don't want to think that prospects would opt-out of communications with us, but it happens. And like any healthy relationship, when one party wants out, it's best to respect their wishes and let it be. Make it a habit to monitor unsubscribe and bounce rates after each email send. Best practices recommend staying below a 1% unsubscribe rate to avoid being black-listed. Many marketing automation platforms, like HubSpot, manage unsubscribes for you and will not send to them once they've opted out.
4. DO consider your target audience
Mass emails may be tempting, and can even be time savers. Don't give in! Remember: it's important to consider your target audience when emailing your prospects. They entrusted you with a direct way to reach them assuming you would share helpful, relevant information specific to their needs. Keep email communications relevant to your audience and apply the appropriate tone and value proposition to that recipient. With great power comes great responsibility, so use your power wisely and don't cut corners. Otherwise, you run the risk the of losing interest and credibility from prospects.
5. DON'T only send emails when you're selling
It's okay to send emails that have nothing to do with an offer or sales pitch. Email marketing is meant to get the word out, but that word doesn't always have to tie back to sales. Consider sprinkling in emails that have nothing to do with your product or service, and focus on providing resources that are helpful or educational like popular blog posts, an invite to connect on social media, or even wish a thoughtful congrats about a company milestone. This is where you can show prospects your human side and give a glimpse of the type of company they could work with. Speaking of human…
6. DO send emails from a human
"No reply" doesn't live here anymore. Email marketing still needs a human touch, so in your next series of email campaigns, be sure to associate them with a real email address and avoid the communications.
Quick tip: Use a full name (first and last) as the "from" name to avoid being sent to Junk folders. Spammers tend to use only the first name as the "from" name,
7. DON'T forget about frequency
The frequency of email sending differs by organization: once a week, once every two weeks, once a month. But the common theme here is that it's an ongoing effort. Triggered drip campaigns are great for making sure there's always something touching your contacts – as long as it's targeted. It's critical to be sensitive to your frequency. Sending 2-3 emails a week to the same list is excessive, but emailing a different list in that same week is more acceptable, less disruptive, and frankly, not as annoying.
8. DO try new things – be brave!
So many email marketing trends come and go. With the capabilities and trends available today, it's hard not to be curious about what could be the next best thing in email. Test small changes like CTA colors, styles, and placement. And even if the test doesn't work out, at least you'll have the data to justify not using that method. So dig that old email out of the archive and try something different.
Now that you're reenergized about email for your organization, use this must-have guide for crafting highly effective emails.