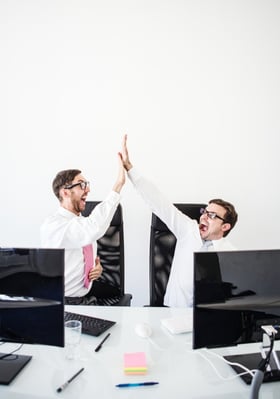 Behind any good B2B marketing program lies a clearly defined set of goals. Your e-mail marketing drip campaign aims to have 50 people subscribed to your upcoming webinar by the end of the month. Your new PPC ads have been optimized to target a specific buyer pain point to generate more downloads of your latest eBook. But how easily can you calculate the ROI of your social media marketing efforts?
Sure, everyone is "doing" social media, so your company is too. But unfortunately, likes, Retweets, and new followers don't always translate to dollars and cents for upper management.
Ready to turn some heads in your next quarterly meeting? Here are 5 ways you can prove the value of your social media marketing efforts.
1. Lead Generation
Lead generation is a B2B marketer's most important objective, and social media is quickly becoming a viable contender in the lead generation arena. These days, social media has been found to have a 100% higher lead-to-close rate than traditional outbound methods (ADG Creative). Think of your social media channels as free advertising platforms for your best content. Your blog posts, premium content offers, and event promotions should all be distributed as often as possible to boost blog subscriptions, form submissions, event registrations or whatever KPIs are most valuable to your campaign.
Creating unique campaigns, (via your CMS, social media tool, or marketing automation platform), for your social media goals will also allow you to track which social channels, and even which individual posts, are generating the most leads for your business. When new leads are converted from your social campaigns, move down the funnel to become sales qualified leads, and then hopefully into customers, your sales team will be able to attribute these conversions to your specific efforts.
2. Website Traffic
A company's website is one of the first places a potential prospect may visit to learn more about their business, and should be chock-full of actionable opportunities to convert them in to qualified leads.
When mapping out your social media efforts, be sure to include a good mix of social content that leads to blog posts, content offers on landing pages, and even a few that drive potential customers to your web pages with the highest conversion rates.
Marketing automation platforms like HubSpot allow you to break down your website traffic based on individual social media platforms, so you can easily see which channels are driving the most traffic back to your site.
3. Influencer Outreach
It may feel pretty good to tout a 450% growth in Twitter followers to your buddies in the break room, but how much weight do those numbers really carry if you're not attracting and engaging the right type of valuable followers that your business really needs?
Dedicating a portion of your social media marketing efforts to identifying and engaging with industry influencers, brand evangelists, and highly engaged individuals in your market will increase the likelihood that your content is shared by and to a more targeted audience. Plus, getting a shout out from a well-known influencer in your market will give you some more social street cred when your prospects start researching you.

4. Competitive Intelligence
Some of the most valuable, (and did I mention free?), market research and competitive intelligence can be found hidden amongst your daily social feeds.
Knowing what conversations your prospects are having online can be a key opportunity to identify pain points, popular search terms, and engaging topics for your next content marketing campaign.
Using social media to gain insights on how your competitors are driving business and staying engaged with their prospects and customers is a great way to benchmark your own social presence and effort, and can even help identify opportunities in your market. Knowing more about how your competitors operate socially can also come in handy when creating your pitch for your next proposal.
5. Brand Awareness
In the B2C world, marketing is constantly focused on raising brand awareness and creating brand evangelists. While the efforts might look different for B2B, the basic principles remain the same, and social media is a great tool to spread the word about your company's unique value proposition.
Here's where metrics like impressions, social reach, likes, Retweets, and favorites come into play – the more people are engaging with your content, the more visibility your brand has. As a best practice, be sure that the content you're sharing on social media is a healthy mix of brand promotion, thought leadership, calls-to-action, and showcasing company culture to maintain a positive, balanced social profile.
Are you rocking your B2B social media program? Share your social media marketing success stories with us in the comments section!
Want more posts like this sent directly to your inbox? Become a subscriber to receive weekly insights from our digital marketing blog.