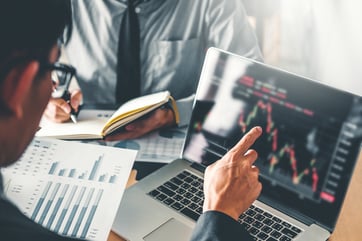 Finance is a heavily regulated space. When you bring technology into the mix, strict rules and guidelines must contend with a rapidly evolving marketplace and constantly escalating demand. To stand out from the noise, it's vital that fintech companies make use of inbound marketing to promote themselves and meet the needs of their clients and prospects.
Inbound is about meeting your clients and prospects right where they are, with the content they want to see when they want to see it – not just pushing a particular product or marketing message. Inbound marketing focuses less on general advertising and more on addressing the specific concerns and needs your clients are already dealing with.
Inbound and digital marketing go hand-in-hand, but there are many pitfalls to be aware of before launching any new marketing campaigns or strategies. For the fintech space especially, it is important to know the most common mistakes to help protect yourself – and your business – from industry regulators.
Mistake #1: Not having a plan.
The first inbound marketing mistake for fintech marketers to be aware of is trying to get started without a plan. Without a concrete plan to guide you, your decisions and actions will be informed by whim, and unsupported by data, insight, or reason.
To develop a plan, you must first understand your goals. What do you want to accomplish with inbound marketing? When setting goals, we recommend following the SMART approach.
Goals should be:
Specific. Know exactly how many leads you want to convert, or by how much you want to increase sales revenue with a particular campaign.
Measurable. Your goals can't be arbitrary; make sure you have a way to measure success.
Attainable. While it's always nice to dream big, your goals should be realistic.
Relevant. How do your goals align with your business's priorities and core values?
Time-bound. Don't give yourself an endless runway. Determine what you want to accomplish and by when.
Another important part of having a plan is knowing who exactly you're targeting. One great way to understand your clients and prospects is through the use of buyer personas. Make sure to document and share them with your team.
Mistake #2: Doing too much.
In a similar vein, attempting to do too much with a single campaign can also spell disaster for fintech companies just starting out with inbound marketing. When your campaign lacks focus, you can't put adequate energy toward any one activity.
Coordinating multiple mismatched marketing efforts will distract you from reaching your goals. When you're first starting out, it's often beneficial to try one avenue of inbound marketing, like pay-per-click (PPC) or social media. To determine which medium is right for you, you'll have to consider your goals and buyer personas.
Mistake #3: Not taking the time to monitor and develop your marketing campaign(s).
Inbound marketing is not a set it and forget it methodology. Inbound campaigns, be they PPC ads, email campaigns, a social strategy, or something else, require regular maintenance to perform optimally.
When you run ads, the performance will likely evolve over time. Ad fatigue is a real threat to an otherwise well-built campaign, but it's not the only thing you should be on the lookout for; you should also be aware of how your ads are targeted, and how your emails are performing in terms of clicks and opens. If you see slow growth or a sudden dip in engagement, it may be time to try some new approaches.
One key to inbound marketing success is to let your data inform your choices. If you're not sure what to do next, look at historical data (if it's available). If there's nothing to refer back to, don't be afraid to do research or lean on a third party for help.
Mistake #4: Not writing a blog.
Blogging is one of the cornerstones of inbound marketing, but it's often overlooked. In addition to boosting your SEO, a blog can help you show your customers that you are a source of knowledge, wisdom, and support for their problems.
When it comes to the finance aspect of fintech, it's important to keep regulators in mind. Agencies like FINRA and the SEC have very strict guidelines on what is and isn't acceptable when it comes to marketing and advertising, so it's important to be aware of the language you use in all of your marketing efforts, not just your blog. You'll have to carefully consider which topics are not only relevant to your user, but acceptable from a compliance standpoint.
There are thousands of factors that contribute to a "good" blog, but the most important thing is that you have one and you post to it consistently.
Plan out your monthly (or quarterly) blog posts with a strategy in mind. Think about what kinds of posts will benefit your target audience and what kind of content they are most interested in. Bear in mind that different buyer personas may have different interests; don't try to appeal to everyone with every post. Each post should have its own target audience.
Consider your buyer personas; what sort of problems do they face on a day-to-day basis? How can you help them address those problems in a non-invasive way?
Mistake #5: Focusing on yourself, not the customer.
This is another huge mistake to avoid when it comes to inbound marketing for fintech businesses. The main thing that sets inbound marketing apart from other types of advertising is that it's about the customer – all about the customer.
While other marketing strategies are focused on generating revenue and pushing messaging, inbound marketing flips the script and asks how your business can better help your customers — not by pushing a product, but by offering genuine education. And in the fintech space, this is a great approach.


Above all else: Customer first.
When you focus on your customers and their needs, rather than how to get them to behave a certain way or buy a certain product, they become the driving force behind your business – as they should be! When you actively work to address customer concerns at every stage of the funnel, your target audience will begin to recognize you as a brand that truly cares for them.
For more help with creating an inbound marketing strategy, check out our guide to jumpstarting your inbound marketing program:
10 Steps to Get More Leads