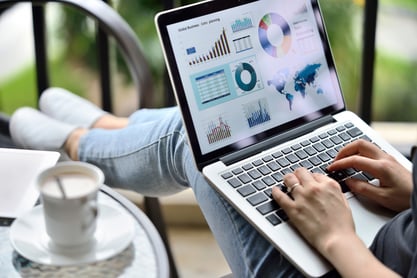 Google Analytics can give invaluable insight to B2B companies who want to consistently analyze and improve their websites. This information is important to better serve your target market, discover why they are visiting, what they are doing on your website, and why they are leaving. Whether you've just launched a new website or have yet to tap into the full potential of Google Analytics, utilize these tips to start understanding your visitors' actions.
1. Account Optimization
First things first, make sure to filter out your own IP addresses, so Google isn't tracking your internal activity. After the initial set up, you can customize your own dashboard to view metrics that are most important to your organization.
If you're already using Google Analytics, go a step further and make sure you're utilizing their Page Speed Insights to monitor the technical performance of your site. Under Behavior and Site Speed, measure the download speed of your overall site and specific webpages. Google Analytics also provides you with page speed suggestions, a score from 0-100, and suggestions of things to fix (optimizing images, reducing server response time, avoiding landing page redirects, enabling compression, minify HTML, CSS and JavaScript, etc.) on your desktop screen and mobile view to improve load time.
Ideally, the higher the score the better, but a score of 85 or higher means your site is performing well. This is an important metric to monitor to improve the user experience and because Google monitors your site speed when ranking your website.
2. Visitor Intent
Discover what is driving people to your site. Under Acquisition, you can see what percentage of your visitors are coming from direct traffic, organic search, referral traffic, and social media sites. This report is helpful to discover where your traffic is coming from and if your marketing efforts are paying off. For example, if you were recently a guest blogger on a credible site, and your article or bio links back to your website, you can measure your potential increase in traffic under the Referral category.
In Search Console (previously called Webmaster Tools) and Queries, find out what keywords people are searching for to get to your site. You can view how many clicks per keywords are being driven to your site and the average position you have on Google for that keyword. Utilize these terms in your content and as paid keywords to drive additional traffic to your site.
3. Visitor Information
Google Analytics gives you a deeper look into your visitors' information under the User Explorer tab. Under Demographics, you can see the age and gender breakdown of your visitors. The Geo tab tells you what language your visitors use and where your visitors are located. The Technology section allows you to view what browser and network your visitors are viewing your site from. Lastly, you can view what device your visitors are using under the Mobile tab.
Use this data to optimize your website for different browsers, countries, languages, and devices. Utilize the geographic indicators to grasp where your visitors are located and to decide if you need a separate website or content in different languages to better serve your clientele.
I have personally used this report when setting up a new Google AdWords campaign for a client to discover which locations I needed to target in my messaging and content. The Technology tab can help you understand which browser and device your visitors are using to browse your site. Different devices are important for different businesses and it is critical to make sure your site is optimized for these devices to improve the user experience, decrease bounce rates, and improve how Google ranks your site.
4. Visitor Activity
Google Analytics also gives insight into what your visitors are doing on your site. You can click on Behavior and Site Content to see what pages on your website are the most popular, their bounce rates, average time on page, and exit percentage. This data is crucial in determining what webpages are the most popular, and for determining which pages might need to be improved for better conversions or "stickiness."
Under Behavior and In-Page Analytics, you can see what your visitors are clicking on for each page of your website. You can also download Page Analytics Chrome extension to see this data, as well as the number of active visitors, average time on page, bounce rate, exit rate, unique page views and more. With the extension, you can view this information directly from your webpages when you're logged into your Google Analytics account.
If you have a search bar on your site, you can monitor what users are entering into the search bar. To do so, go to Admin, View Setting, and then turn on Site Search Tracking. To view this data, go to Behavior, Site Search, and then Overview. Monitor this data to learn more about your user's intent when visiting your site and improve your user experience by getting content ideas, updating your site navigation, and web pages.
5. Personalized Alerts
Create personalized alerts by going to Intelligence, Events and Overview, then Custom Alerts. You will want to set up these custom alerts for anything that you want to know about immediately, without logging into your Google Analytics account. Think of actions that are most important to your business and about any errors that may occur on your website. Custom alerts can be generated for a number of different criteria, but some important alerts include significant spikes or dips in traffic, goal completions, no traffic (Google may have stopped indexing your site), error page reports, and more. Lastly, set up monthly performance reports to receive monthly updates sent directly to your email.
Google Analytics provides your business with an abundance of valuable data that you can't ignore. Tap into Google Analytics' insights to strengthen your marketing efforts and optimize your site and content for your website visitors.
To learn more about what your website analytics numbers are telling you check out our blog post, Website Traffic- Your Guide to What's Important.