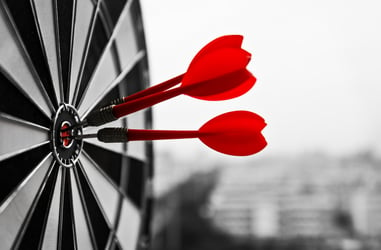 It's hard to ignore the hype around account-based marketing (ABM). Everywhere you look, it seems like everyone is talking about it. But we can all agree that despite all the commotion and stats touting its effectiveness, getting ABM right is hard.
That's because even though ABM as a concept is old, the way it's done today is new. ABM is still relatively immature, and doing it at scale is a process that many organizations are still trying to nail down.
While there are many vendors out in the market that proclaim instant ABM success, the fact is that success won't be found in simply implementing a new tool. It requires getting a handle on four main areas to get ABM right. Let's explore what they are.
Senior Level Support
Most B2Bs implement ABM expecting to see immediate returns only to be upset when said returns don't materialize. Getting senior level support is about educating your senior level executives on what ABM is and setting their expectations on what they can realistically expect to gain.
When meeting with your executive team, it's important to focus your ABM program on the company's long-term goals instead of quick wins. Make sure to carve out the right amount of time and allocate the right resources toward evaluating the right accounts.
You also want to make sure to translate how ABM's long-term goals are shared and operationalized between sales and marketing. Aligning your resources appropriately is essential to success.
Sales and Marketing Partnership and Integration
Did you notice that we didn't use alignment in the header? That is no mistake. Marketing and sales alignment is a loose term that doesn't really describe what is needed from each department to make ABM work.
Instead, using "partnership and integration" does a much better job of illustrating what is required from each department, such as shared goals and vocabulary. For example, most marketers don't speak in terms of "pipeline," "deal velocity," or "account growth via revenue." But if sales and marketing don't have a shared vocabulary, it's going to be difficult to get everyone to work together.
The other factor to consider when establishing a partnership between sales and marketing is what roles and responsibilities each team will fill. You need to define who is going to research all of the accounts and what is the role of marketing vs. business development representatives vs. sales? The goal is to have visibility into what is going on to make sure everyone is working from the same playbook.
Technology
At Marsden Marketing, we say this often ­– technology is a tool, not a strategy. We're not trying to downplay its importance, but no one should ever build their marketing strategy on a tool. The intent of using technology like AI, IP-based intent tools, and even LinkedIn is to gain deeper insights into your target audience.
Deep client insights arm you with the information you need to tailor your messaging to that specific account, ensuring you have the greatest chance of converting that opportunity. Without it, it's the same as setting up a lead generation program.
As you integrate new technology into your tech stack, make sure you learn as much about your target accounts as possible. Look at the data to get familiar with how many people make up the buying group, what their individual/account pain points are, and what kind of content they like to consume.
When looking at what tools to include as part of your tech stack, make sure to look at the data and information you need to execute ABM. This information will prove fruitful when developing content for your target accounts and setting up your campaigns.
Personalization
The first three components are essential to determining your ABMs success, but without the right content, there's no way you can get started. But it's not about creating content for content's sake. It has to be personalized. Not at the individual level, but at the account level and the buyers that make up that group.
Some people think that creating personalized content under an ABM program is as simple as switching out the image on the front cover. However, that will not take you far. The more specific you can get, and the more proof-points you can offer from current clients, the more likely you are to cut through the noise. Make sure that you focus on the pain points of the buyers that make up the target group.
A note of caution. If you are trying to break into a new space, it will be a while before you start seeing results. So, make sure to temper your expectations. Your target audience will want to see what you have done for someone that looks like them.
That means that if you don't have the case studies or use cases available to show them what you've done for similar customers, you're going to have to work much harder to close the deal.
It's All About Teamwork
The best way to implement ABM is to work as a team. We think of an ABM team as a pride of lions. ABM is executed successfully when the pride hunts together, targets their prey, and personalizes their approach according to what they are targeting.
When marketing and sales organizations go after accounts together, they succeed. ABM is a true test that separates the winners from the losers. Is your team ready?
Interested in learning more about ABM?
Check out the blog on measuring ABM to ensure success.