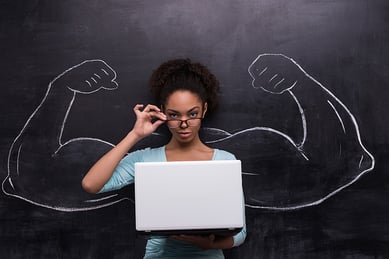 "So, what exactly do you do?" As a marketing professional, I run into this question fairly often. The outside picture of the digital marketing agency is a bunch of blue -haired hipsters spending their days posting on social media, playing on Photoshop, and making BIG decisions based on who wins the in-office beer pong challenge. While many brilliant ideas happen brew-in-hand (in the agency world) – most corporate marketing departments are pretty…well, "corporate."
Unfortunately, one cliché that is often true of both the "stereotypical digital agency" and many corporate marketing departments is a lack of structure. Team members frequently juggle roles and work in silos. It's as if everyone has a paddle and is rowing the same boat in different directions. Sophisticated project management not only provides the team a clear destination, but also maps the best route to get there.
Project management means establishing and documenting a process, enforcing that process, and managing the deadlines and deliverables. Here are 3 ways that effective project management will make your team more efficient.
1. It Amplifies Their Strengths
If you're a great chef, you can whip up a tasty dish without a recipe. The same is applicable to professional skillsets. Identifying the superpowers of your team will have a direct impact on the efficiency of your department or agency. Knowing what tasks people are most effective in makes it easy to select your project "dream team." Putting the right people in the right places will get you to your best work, faster.
Delegating specific responsibilities to your team removes time spent trying to figure out how to do something outside of their scope, and allows them to focus on things they do exceedingly well.
Remember that cooking analogy? You put two amateurs in a kitchen and by the time they find a recipe, figure out what the heck "sousvide" means, and navigate through meal prep the experienced chef is already washing the dishes.
2. It Forces Organization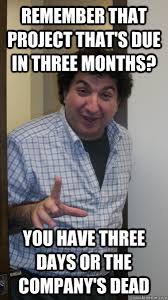 While we are on the topic of strengths, lets just be honest, organization isn't everyone's.
In a 2011 Office Max Survey, 82% of people polled said that being organized improved their work performance. Effective project management establishes processes and sets expectations. Organization forces the entire team to be aware of, acknowledge, and be accountable for their own responsibilities.
Build a schedule, then teach your team to speak in deadlines. Deadlines are benchmarks that allow you to accurately track progress toward your marketing deliverables. This directly impacts efficiency by eliminating confusion, ensuring that the team is aware of what work needs to be done, by who, and when. Enter: organization.
Huffington Post defines organized people as being "goal-oriented." Deadlines are goals. So deadlines = organized people. It's math…or something.
3. It Enables You to Better Manage Resources
There is nothing less efficient than an overworked worker. Effective project management will help alleviate their stress by identifying maxed-out team members - freeing them to actually COMPLETE their work, instead of bottlenecking it (another beer pun), while they make progress on another "more urgent, than urgent" task.
Having processes in place, taking time to identify your team, and consistently tracking progress toward deadlines allow great visibility into whether or not a team member is over-allocated – even if they don't admit it.
Once you identify team members that have a bit too much on their plate, you are in a position to relieve them of some stress by delegating tasks to outside vendors or other team members. This allows all parties to work toward their deadlines at a more efficient pace.
Whether your agency or department is small or large, the benefits of project management are universal.
As you continue on the path toward business growth, remember: your team is your most valuable resource. Amplify your impact by implementing processes that will make your team more efficient. Get more work done, faster, and without compromising your quality of work. Trust me, your clients and your internal team will be happy.
They might even buy you a beer.
Interested in learning how partnering with an agency can make your team more efficient? Connect with us today!