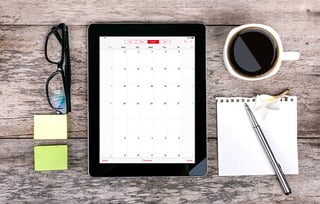 Time to set aside your glass of champagne. After ringing in 2016, businesses are focused on planning and preparing for the year ahead. If content marketing is a part of your marketing strategy (which we sure hope it is) that means building out editorial calendars, brainstorming topics, and figuring out how to repurpose content all in an effort to deliver value and keep your audience engaged.
However, coming up with new and fresh ideas can be a challenge. So to help kick start some creativity, we've compiled a list of 12 types of content (and some best practices) you can create to add some oomph to your marketing.
1. Lists
Content in list form performs extremely well on social media. Turning content into numbered or bulleted lists will likely generate engagement and act as easily digestible, informative bits of content.
2. How-to's
A "how-to" format allows you to demonstrate your subject expertise. Help educate your audience on a relevant topic or provide best practices on a task they may be tackling.
3. Quotes
Do you have great quotes from testimonials, case studies, and white papers? Pull them to create images and graphics that can serve as an eye-catching image to share on social media and then link back to the original content source.
4. Infographics
This form of visual content is a great way to share information, especially data and stats (hence the name info + graphic). Infographics are the most shared type of content and will likely drive a lot of engagement. Here are some best practices to follow when creating them.
5. E-Books
Have a wealth of blogs or whitepapers on a particular topic? Consider editing the content to compile a meatier e-book to offer your audience a more insightful look into the subject. These also provide a way to capture information for new contacts by linking access to the e-book to a landing page with a form.
6. Kits and Bundles
Sometimes content in all its different forms can get spread out on your site. How about creating a PDF combining several pieces on one topic or challenge your audience is interested in? Conveniently pulling it together for them in one "kit" provides a great opportunity to create an offer and gain contacts.
7. Checklists
Share easy to use checklists with your readers with step-by-step instructions for effectively accomplishing projects they frequently have to complete.
8. Polls
Spur engagement and learn more about your readers' opinions and needs by conducting polls. Then use your findings to generate new content that shares what you discovered.
9. Q&A
Are there common questions your potential customers have that you can answer? Or can you provide unique insights into certain challenges your business solves? Create a Q&A blog or even a video to offer help to your audience and also position yourself as an industry expert.
10. Case Studies
Share stories showcasing how you've helped clients solve their problems. This is also a great form of content to have available for people once they reach the decision-making stage.
11. Interviews
Are there other experts or leaders tied to your industry (that aren't competitors) who can offer valuable information to your market? Reach out and collaborate on content that will likely help both of you reach new audiences.
12. Blogs
A blog post is one of the first kinds of formats that come to mind when thinking about content marketing. They are a good way to share your message, consistently deliver content, and draw people to your site. A blog should first and foremost serve as an informative resource. Check out this infographic on "The Anatomy of A Perfect Blog Post".
Remember: regardless of the kind of content you are creating make sure you are providing relevant, insightful information. Share knowledge and expertise about the topics your target audience wants to know about and keep the focus on educating rather than selling your own products. Consider the value of what you are providing when utilizing content for a conversion opportunity. And don't be afraid to repurpose if you are able to present content in a new, engaging way. Cheers to a successful content marketing plan in 2016!