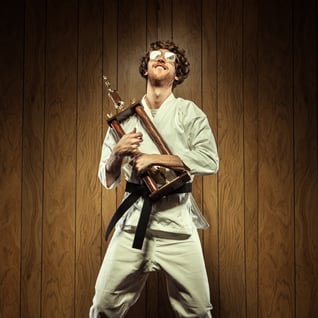 Frank Lloyd Wright once said, "an architect's most useful tools are an eraser at the drafting board, and a wrecking bar at the site."
While Wright was referring to the act of designing a building, the theory holds true for constructing most things — including your company's website.
The best B2B websites begin with drafting a comprehensive blueprint, constructing a solid foundation, and merging the rules of design with innovation to create a unique experience.
Great B2B websites all incorporate these 10 basic principles into their architecture to enhance each visit:
1. It's all about you. Your website is your brand. Your logos, colors, fonts, and content are your chance to showcase yourself. To stay on point with your brand, consistency is key. This may sound like a given, but forgetting this even once can destroy the hard work that you've put into other pages.
2. It's not all about you. Focus on your audience. Your website shouldn't be about the information that you want to present, but the content that your audience wants to receive. It's your job to know what your visitor's pain points are and how your solution resolves them. The experience on your website should be more about the prospect and less about you.
3. Go with the flow. As you map out your website, you should aim to create a natural flow or navigation. Create a visible path both forward and backward (breadcrumbs, progress bars, page headers, etc.), while quickly providing your visitors with the information they want.
4. Dare to be different. When your visitor arrives to your site, who you are and what makes you different should be abundantly clear. Do the work for your visitor and showcase why you stand apart from your competitors. Never shy away from your unique value proposition.
5. Taking responsive-ibility. Responsive design is no longer an option, but a requirement. Yet, when we first start designing our websites, it can easily be an afterthought. The user experience should be seamless regardless of the device, and this should start with your original website design concepts.
6. Fresh faced. Your website is the face of your company, and everyone loves a fresh face. By adding new material on a consistent basis, you give the visitor a reason to come back. Updating the design, adding new art, and dropping in bold elements all get attention and pump life into your website.
7. I'll show you mine ... There should be no "if" after this phrase. A good B2B website should always be willing to show. It's about demonstrating your value and not simply telling or stating your value with hopes of getting the buy-in. Case studies show your ability. Testimonials show your successes. Run all of your content through a "show and tell" test.
8. anguageLay attersMay (or Language Matters). We want our websites to be on brand and appear professional. Along with that comes a trap that we all too easily fall into: industry speak or jargon. Sure some words or phrases may be necessary for your industry, especially search terms, but overall we should edit ourselves to sound less like a textbook and more like an engaging conversation.
9. "Have it your way." Your website should give every visitor options based on where they are in the sales funnel. Are they simply gathering information and educating themselves or are they ready for a quote? As you design the calls to action for your website, think about each buyer and each stage of the buyer's journey, giving them options to whet their appetites for more.
10. Don't get disconnected. So you finally have a visitor that wants to interact with you. Nothing is more frustrating than wanting to connect and not being able to figure out how. Include a phone number, an email address, social media links, blog sign-up options, contact us forms, etc ... Be accessible in every way that your prospect could want.
By incorporating these 10 basic principles, your B2B website shouldn't need to fear the wrecking bar. These approaches will help keep your website welcoming to all visitors for years to come.
Following a website design and development process is crucial to the success of any B2B website project.

Download our graphic, The Website Development Process, to help plan your next redesign.